IDRiskIQ Score
IDRiskIQ scores are based on data your customer provides about themselves, the devices they use, and their security behavior. While no one is completely safe from identity theft or fraud, understanding their individual risk enables them to take necessary precautions to safeguard against these crimes.



Actionable Advice to Reduce Risk
The IDRiskIQ score is explained in order of user-input response severity. In addition to listing out the associated risks of your customers behaviors and demographics, IDRiskIQ provides users with tips and best practices on how to decrease their risk and increase their security going forward.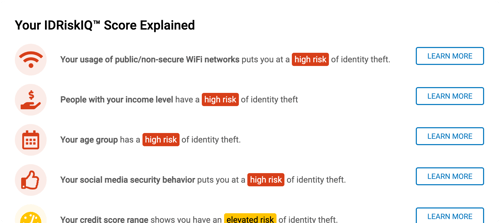 Is Your Customers' Email Already Compromised?
Users can check to see if their email address is currently at risk by utilizing IDRiskIQ's Email Health Check Lite, which includes a built-in dark web scanner. Here, users will discover whether or not their email address has been compromised in a data breach and when the email was last exposed.