A White-Label Solution Drives Retention and Forges Long-Term Partnership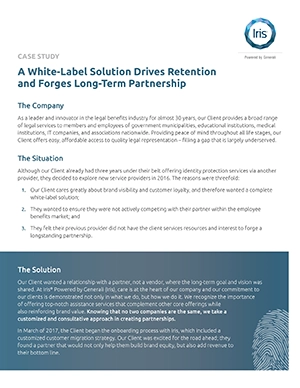 As a leader and innovator in the legal benefits industry for almost 30 years, our Client provides a broad range of legal services to members and employees of government municipalities, educational institutions, medical institutions, IT companies, and associations nationwide. Providing peace of mind throughout all life stages, our Client offers easy, affordable access to quality legal representation – filling a gap that is largely underserved.

Although our Client already had three years under their belt offering identity protection services via another provider, they decided to explore new service providers in 2016.