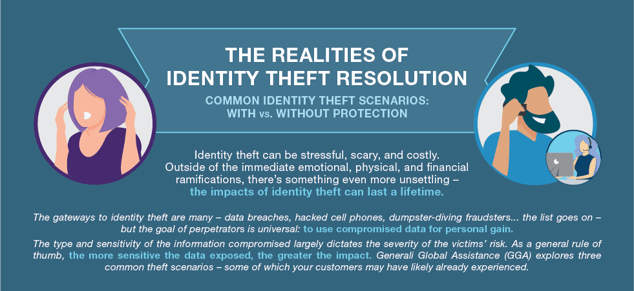 Estimated Reading Time: 8 Minutes
You've probably heard horror stories from people who have been unfortunate enough to have to deal with the fallout from having their identities stolen. Identity theft can be costly for victims but it's not just about credit and finances. According to a report by the Identity Theft Resource Center, 75% of the people polled stated they were severely distressed by having their identity stolen, 66% said they felt violated, and 64% reported high levels of stress. Family life and relationships were also negatively impacted. However, beyond the immediate emotional, physical, and financial ramifications, there's something even more unsettling that most people don't consider – the impact from identity theft can last a lifetime.
The goal of most perpetrators is to use the stolen data for personal gain and there are many gateways to access this information – data breaches, hacked cell phones or laptops, dumpster-diving fraudsters – the list goes on. The severity of the victims' risk is largely dictated by the type and sensitivity of the compromised information. As a general rule, the more sensitive the data exposed, the greater the impact of the theft.
Common Identity Theft Scenarios and Resolution Advice
Let's delve into some common scenarios (some of which your customers have likely already experienced), consider typical reactions, and explore resolution suggestions that you can share:
You get a letter in the mail that your name and email address were part of a data breach.
While a leak of your name or email address is cause for concern and demonstrates poor custodianship on the part of the breached company, you don't necessarily have to immediately start worrying about fraud. However, that doesn't mean you should completely disregard the issue, which is what the average person might do. At this point, an identity thief could use this information to create a more targeted phishing email to extract even more personal data from you.
If you had Iris® Identity Protection, your Resolution Specialist would advise you to:
Be on the lookout for phishing emails. Even if the email appears to be legitimate, never click on any links or attachments. Instead, navigate to the sender's website by entering the web address in your browser's search bar.
Generali Global Assistance's (GGA) identity protection platform includes anti-phishing, anti-keylogging, and anti-ransomware software. In this scenario, our highly trained Resolution Specialists would also confirm that you have downloaded our Online Data Protection software (which takes less than a minute), to help ensure you're protected.
You realize that your driver's license was stolen from your wallet.
Unfortunately, many people don't realize the impact that a leak of their driver's license information can have down the road. While many consumers feel frustrated and inconvenienced when they have to replace a critical piece of identification, the situation usually ends there and setting up additional preventative safeguards is often ignored. However, an exposed driver's license is serious, as it contains almost every piece of personally identifiable information, with the exception of your Social Security number (SSN).
If your license is stolen, once you've contacted your state's Department of Motor Vehicles (DMV) for a replacement license, check to see if your state requires you to report the theft. Even if the state doesn't, your Resolution Specialist would strongly recommend that you do. Hopefully your state's DMV has also flagged your license number (some do, some don't) just in case another driver is pulled over by law enforcement and presents the stolen driver's license as his/her own.
Since your driver's license has so much of your personal information, an identity thief could use your stolen license to commit other identity crimes, some more severe than others. Here are a few additional safeguards that your Resolution Specialist would recommend:
Depending on your level of comfort, we recommend placing a fraud alert or a credit freeze on your credit file(s). The alert and freeze are free to all consumers and place an extra layer of security around your credit. While the freeze completely blocks all access to your credit, with a fraud alert, lenders will just be alerted to take extra steps to verify your identity before issuing new credit.
Fraud alerts can be placed for either one year or seven years; they act as a "red flag" for creditors to do their due diligence before extending credit (this means you're leaving it up to businesses to take extra precautions).
Customers can easily place a one-year fraud alert via their Iris® Identity Protection portal themselves.

Be diligent in monitoring your financial accounts. With access to such sensitive personal data, you never know what else the thief may be able to tap into.
Periodically request a copy of your official driving record to make sure the thief did not use your driver's license number to cover their own traffic violations.
You're getting phone calls about a credit card that you didn't open.
This is an alarming phone call that no one wants to get! If you get this call, it means that a fraudster was able to access your most sensitive personal information, including your SSN. While credit cards, passwords, and email addresses can be replaced or changed, for the vast majority of consumers, your SSN is yours forever – even if it gets into the wrong hands. New numbers are only issued in very unique situations or in the event of identity crime that the Social Security Administration (SSA) deems extreme.
Even then, government agencies, some businesses and credit reporting companies may still keep records under your old SSN. Many who decide to go through with the process of changing their SSN often regret doing so or go back to using their old one because of the confusion that lingers on into the future. They find that their old number is still linked to their new one, which means that not only do their troubles continue to follow them, but the linked numbers make it more difficult when applying for credit.
Most consumers understand the importance of handling this situation immediately, but our research also indicates that many are not sure what next steps to take. Filing a police report is an essential first step, as well as contacting the creditor to notify them that the account is fraudulent. From there, many identity fraud victims find themselves going in circles, some spending hundreds of hours trying to resolve the crime on their own. This is why full-service resolution support is such an important part of identity protection – though most "free" offerings don't include it.
With your SSN in the hands of thieves, you'll never really know who – or how many criminals with malicious intentions – have access to it. Someone with Iris® Identity Protection would be advised that it's imperative to take the following precautions immediately (many of which we'll do on your behalf):
Contact the credit bureau to place a credit freeze. Creditors will almost never extend credit without first doing a credit check, which they can't do if your credit is frozen. Ideally, a fraudster won't be able to open any other accounts in your name. Just remember to lift the freeze if you plan to take out credit, as it will block you from doing so as well!

If you're not enrolled in three-bureau credit monitoring with Iris®, check your credit report at www.annualcreditreport.com for access to your complete credit report from all three agencies.
Keep an eye out for credit and identity monitoring alerts. If/when you get them, immediately log in to your Iris® Identity Protection online portal to check if they are related to fraudulent activity.
Contact the IRS Identity Protection Specialized Unit at 800-908-4490 right away to take steps to secure yourtax account and match yourSSN or Individual Taxpayer Identification Number (ITIN). Also, fill out the IRS Identity Theft Affidavit, Form 14039.
How You Can Help Your Customers
We hope that the information above is useful. To provide a closer look, we developed this infographic for you to share with your customers. If your customer is only doing the bare minimum, like the average victim illustrated above, and they don't have coverage like Iris® Identity Protection, the damage to their credit could be crippling and pervasive. A situation like a breach notification could snowball into a full-blown fraud issue that could have possibly been avoided. If they have protection, it could take the burden of resolving any fraud issues off the victim's shoulders, while also continuously thwarting any future fraud complications – for life. Your customers will thank you for offering a solution that, in today's digital age, is absolutely critical.
Download our infographic, "The Realities of Identity Theft Resolution" today!