Estimated Reading Time: 4 Minutes
What is Digital Privacy?
Digital privacy is the protection of any data an individual shares via internet-connected devices, whether it be when purchasing goods/services, browsing websites, or engaging on social media. Considering that consumers find identity theft more concerning than serious illness or injury, it is important to understand what digital privacy is and how to safeguard data to minimize the risk of identity theft.
How is my data collected?
Websites collect and use data in a variety of ways – sometimes it is voluntary, yet other times it is without consent or knowledge. Every time a person visits a website, they are creating a digital trail of information that is being collected through browsing, purchases, and posts.
These bits of information are called "cookies" and are stored on computers so the website can identify returning users. This is what allows websites to showcase and advertise items based on past activity and purchases.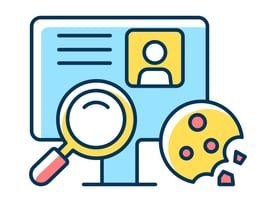 While each "cookie" or bit of information may seem trivial or irrelevant, when these multiple bits are pieced together, the combination can reveal a great deal about the user and their internet activity. Because of this, consumers should always review the privacy settings of websites and browsers, particularly when visiting websites for the first time. Consumers should also be aware that most browsers allow you to disable cookies and/or the ability to erase cookies.
Although some websites alert consumers about the usage of cookies and data, it is often unclear what and how the information is then actually used. According to a study conducted by the Pew
Research Center in 2019, most Americans feel they have little or no control over how companies and the government use their personal information.
How Can Digital Privacy & Security Be Improved?
From a policy perspective, politicians and policymakers are working on legislation to address concerns related to digital privacy. For individuals, the most important thing related to digital privacy to remember is the concept of selective sharing. A general best practice when filling out forms or requests for data is to only include what is necessary for that particular good or service. Information requests listed as "optional" are used to build user profiles which can sometimes do more harm than good.
Users should also always be selective of the information shared on social media and the level of private information included in posts. Information shared on social media platforms are stored and provided to other companies, sometimes unknowingly. In 2018, for example, the personal data of more than 87 million Facebook users were illegitimately acquired by Cambridge Analytica via a 3rd party Facebook app.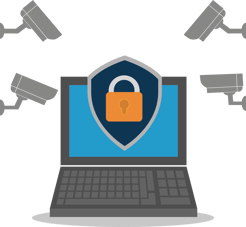 4 Steps YOU Can Take to Improve Your Privacy and Security
To protect your information online, here are four steps you can take today:
1. Use a Virtual Private Network (VPN).
A VPN is a way to connect to the internet by creating a private network from a public internet connection. The VPN essentially scrambles your data to make it unreadable and then masks your location so the data cannot be traced back to you. When choosing a VPN provider, it is important to review the digital privacy and security settings to ensure they, too, respect your privacy by not tracking or logging your online activities.
2. Use a Private Search Engine.
A private search engine allows you to search the internet without your personal information being disclosed or tracked. One of the ways it is different from a traditional search engine, is that it is anonymous and does not sell or share your data without your consent. Some private search engines are free while some are subscription-based. When choosing a private search engine, it is also important to consider the tradeoff between digital privacy and personalization to determine what works best for you.
3. Implement Security Browser Extensions.
Security browser extensions help improve your digital privacy by blocking ads that track your online activity. The extension makes it so the websites you visit can't collect your personal information. When choosing a browser extension, review the privacy and sharing permissions of the extension itself to keep your information safe.
4. Use an Identity Protection Service.
Iris offers a comprehensive program that puts consumers in control of their identity via a user-friendly online dashboard with credit & identity monitoring capabilities, suspicious activity alerts, online data protection, identity & cyber protection educational resources, and 24/7/365 access to expert Resolution Specialists who can provide advice and guidance to help consumers navigate the world of digital privacy. Contact us to learn how you can offer this award-winning service to your customers today.