Estimated Reading Time: 6 Minutes
At Iris Powered by Generali, we do things a little differently. For one, we prefer to take a collaborative approach when it comes to providing marketing support to our partners. We know that each partner has its own business objectives and goals when implementing and offering a new service. So, whether your company's goal is to differentiate itself in the marketplace or increase customer retention and loyalty, our dedicated partner marketing support – or our Accelerate program as we refer to it – will provide strategic and practical marketing assistance to help you successfully market and promote your new service(s).
To share even more details about our Accelerate program, we reached out to our Partner Marketing Manager, Tami Harrigan, to walk us through the program and how she typically works with our partners.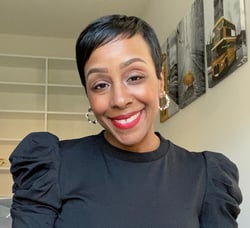 Can you tell us about Accelerate? What makes this program unique in the identity & cyber protection space?
Accelerate was designed to provide our partners with strategic and practical marketing support that will help make their specific identity protection program a success – what makes for success to drive purchase or enrollment at the launch of a new program can be different from success to boost engagement of their identity protection program a year after launch. Moreover, the components of a successful campaign can differ widely from partner to partner based on how they market to their different audiences.
What makes this program unique in the identity & cyber protection space is that you typically won't find this type of customized marketing support provided as part of your overall program. Along with having your own account director to manage your account, you also receive a dedicated marketing professional who understands how to effectively promote your identity protection services throughout the lifecycle.
So, once an Iris partner signs a contract with us, how soon are you brought into the conversation?
Partner marketing is brought into the conversation early in the process. We are a part of our partners' onboarding process, so we are included in one of the first meetings with the client when the entire team is introduced. Following the initial onboarding meeting, we typically set up separate marketing meetings with our partner marketing team and our partner's marketing team, if they have one, to strategize and brainstorm their marketing needs.
Is partner marketing available to all Iris partners or do partners have to meet certain criteria in order to take advantage of this offering?
Some level of marketing support is available to all Iris partners. The Accelerate program was created to ensure all of our partners have a successful identity protection program that can be creatively and strategically promoted to their customers. We assist our partners with their marketing needs throughout our entire relationship. We provide marketing support when they first launch their program, add new services, and when they want to reinforce the benefits of their program.
What type of support is offered via the Accelerate program? Are you providing any marketing templates or sample messaging for partners to leverage? Anything else?
We provide:
Marketing strategy development
Sample messaging for partners to leverage
Flyer and infographic templates
Seasonal and general marketing campaigns
Custom campaigns
Statistics and Testimonials for use in various marketing collateral
Email, social media content, and more
To help make our partners' programs successful, we also provide them with best practices that have been effectively implemented for other programs with similar services and target audiences.
What if a company already has its own in-house marketing team? Do they need to use the Accelerate program?
We encourage all our partners to use the Accelerate program regardless of them having their own in-house marketing team. The program allows us to collaborate with our partners' marketing team or marketing person to find the marketing strategies and resources that will work best to promote their program. On the other hand, we also work with some clients that don't have dedicated marketing resources at all. Regardless of our partners' marketing capabilities, since we are experts in marketing identity and cyber protection, we can be a useful resource for our partners.
Does the Accelerate program offer any training for new partners' sales teams? How can sales be trained on how to successfully sell their company's customized identity and cyber protection program?
Yes, we understand that our new partners' sales teams need training on how to successfully sell their identity protection program, so we provide sales playbooks for our various services. These playbooks provide details on our service features, key service considerations, top questions and answers, tips on selling the service, statistics, testimonials, and more. The sales playbooks help prepare the sales team to comfortably answer questions that arise when talking with customers about the service. The playbooks, as well as other training materials, can all be quickly and easily accessed via our comprehensive enablement platform known as our Partner Portal.
The Partner Portal sounds interesting! Can you tell us a bit more about it? What can Iris partners expect from a resource like that?
Our Identity Protection Partner Portal allows our partners to access a wide library of marketing templates, engaging content, shareable research, educational videos, and sales playbooks from one location, anytime they want. They can view the material to get ideas, leverage content for their marketing needs, and download the materials to adapt them to their audience.
We regularly update the portal with multimedia content that covers identity, cybersecurity, and privacy matters to help our partners better sell their identity protection program, keep their audiences informed, and demonstrate that their organization is well-versed in identity and cyber protection issues.
Our partners receive these content updates via email notifications and through our bi-monthly client newsletter.
Is there anything else you'd like to share about Iris' Accelerate program?
Many partners have commented on how refreshing it is to have a dedicated marketing contact that is available to help with promoting their program. They like having direct access to marketing support to help keep their marketing efforts on track and effective.
Choose a Partner Who Will Help Ensure Your Program's Success
Since we opened our doors in 1983, Iris Powered by Generali has been in the business of helping people. Our mission of bringing customers from distress to relief – anytime, anywhere is a philosophy that includes not only our partners and their customers, but our employees as well. It's what drives our award-winning resolution center to provide white-glove prevention and resolution services, and our marketing and account management teams to provide high-quality and effective business growth support.
Interested in learning more? Watch this short video of Tami sharing even more details about our Accelerate program. And be sure to reach out if you'd like to learn how we can partner with you to help you achieve your business goals.