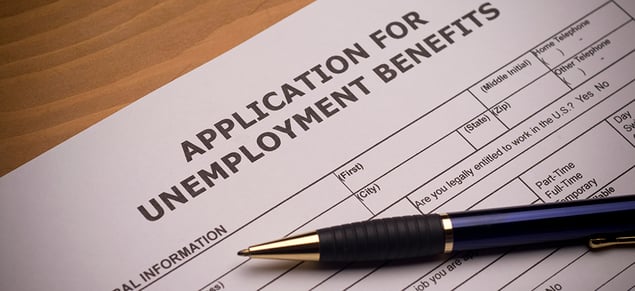 Estimated Reading Time: 3 Minutes
While the COVID-19 pandemic continues to affect consumers' daily lives – and business' operations – scammers are working harder than ever to steal your customers' and employees' personally identifiable information (PII) and money. One way thieves have been committing these fraudulent acts has been through filing claims for unemployment benefits using your customers'/employees' stolen PII.
As noted in our 2020 Highlight Reel, Iris Powered by Generali's Resolution Center saw a significant year-over-year increase (up 5,630% from 2019) in employment-related fraud cases submitted by our end-customers. More recently, our Resolution Center has reported a 52% increase in month-over-month unemployment fraud cases, beginning January 1. Unfortunately, we aren't the only ones seeing such a trend.
In fact, according to the FTC's 2020 Consumer Sentinel Network Data Book, "Government Documents or Benefits Fraud" topped the list of identity theft types reported in 2020. As outlined in the report, the FTC "received 406,375 reports from people who said their information was misused to apply for a government document or benefit, such as unemployment insurance" – up 2,920% from 2019.
But how can scammers even commit this type of fraud?
Criminals obtain consumers' stolen identity using a variety of techniques, including:
Stolen PII via online purchases on unsecure networks

Previous data breaches

Compromised internet-connected devices

Impersonation scams

Email phishing schemes

Stolen information from social media account, etc.
Unfortunately, many victims of identity theft related to unemployment insurance claims do not know they've been targeted for this particular fraud type until they try to file a legitimate claim for unemployment insurance benefits, receive a notification from the state unemployment insurance agency, receive an IRS 1099-G form showing the benefits that were fraudulently collected from unemployment insurance, or receive a notification by their employer that a claim has been filed while the victim is still employed.
So, how can your customers and employees combat this particular type of fraud?
As noted by the FBI, advise your customers and employees to be on the lookout for the following suspicious activities:
Received communications regarding unemployment insurance forms when they have not applied for unemployment benefits

Unauthorized transactions on their bank or credit card statements related to unemployment benefits

Any fees involved in filing or qualifying for unemployment insurance

Unsolicited inquiries related to unemployment benefits

Fictitious websites and social media pages mimicking government agencies
Your customers and employees should also be wary of telephone calls, text messages, letters, websites, or emails that require them to provide personal information or other sensitive information – especially their Social Security number.
Share the following steps with your customers and employees to help them reduce their risk of becoming a victim of employment-related fraud and many types of identity theft and fraud:
Contact the three major credit bureaus to place a fraud alert on their credit records.

Opt-out of firm (i.e. preapproved/prescreened) offers of credit or insurance to prevent consumer credit reporting companies from providing their credit file information to creditors or insurers.

If a victim of employment-related fraud, be sure to report the incident to the FTC by visiting IdentityTheft.gov.

If a victim of any identity theft/fraud type, be sure to obtain a police report.

Sign up for a comprehensive identity & cyber protection service that includes credit and identity monitoring. Be aware that not all identity & cyber protection services will protect you equally, so make sure to enroll in a service that includes powerful monitoring capabilities and 24/7 full-service resolution assistance, should you ever find yourself the victim of fraud.
At Iris, we firmly believe in putting people-first, and are committed to being available 24/7/365 to help you, your customers, and your employees through this pandemic and beyond. Request a demo, and be sure to follow up on Twitter, Facebook, and LinkedIn to stay up-to-date on the latest identity & cyber protection news.