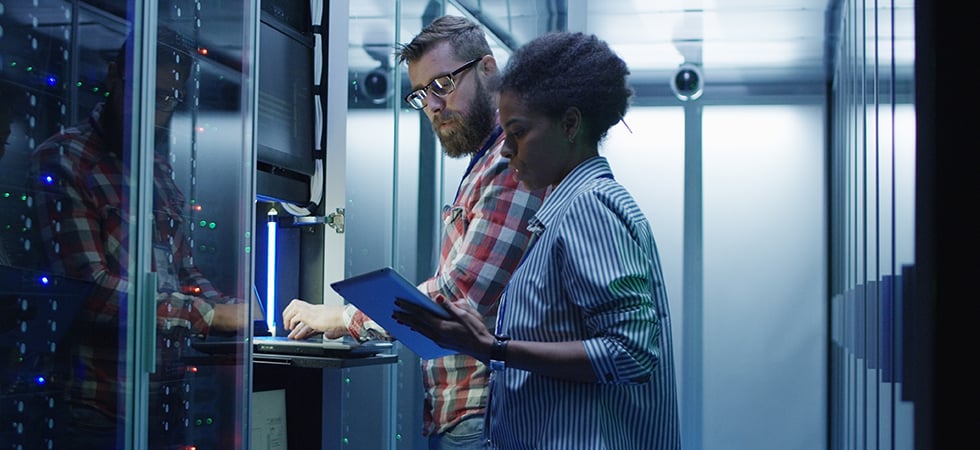 Estimated Reading Time: 4 Minutes
The office is buzzing, the accountants are accounting, the marketers are marketing, the salespeople are selling, and the system administrators are…well, most of us aren't quite sure.
Behind the closed doors of the server room, or with their heads down in their cubicle, system administrators tap away at technical work that would likely confuse the majority of their colleagues.
More often than not, a great system admin goes unnoticed for days, if not weeks at a time; not because they are in hiding, but because they excel in their craft and can orchestrate, maintain, and secure organizations' integrated systems while leaving little to no trace of their presence in normal day-to-day business operations. Simply put, when a system admin's job is performed perfectly, there's little (or nothing) to notice. And, although system admins are often forgotten, they play one of the most critical roles in an organization's security.
From the maintenance and upkeep of servers to ensuring internal systems are secure and protected from breaches and viruses, system admins are the gatekeepers of an organization and the data within. Key responsibilities of a system admin include, but are not limited to:
Monitoring and maintaining all computer servers, disk storage, and virtualization products throughout the organization.
Building and installing new systems and applications.
Participating in infrastructure design and redundancy planning.
Troubleshooting and taking ownership of issues that arise with various applications and systems while working to resolve them.
Facilitating effective and supportive team relationships to resolve operational and interdepartmental problems quickly.
Configuring internal systems.
Diagnosing and troubleshooting technical issues.
Maintaining and upgrading the network infrastructure.
Installing servers, devices, and firewalls.
Monitoring the performance of servers, software, and hardware.
Ensuring the smooth deployment of new applications.
Updating technical documentation.
Importance of internal data security
As if those responsibilities aren't enough, below are some startling figures that demonstrate the importance of internal data security and the imperative role a system admin has in staving off operational risks.
The average cost of lost business after a breach for a U.S. organization adds up to $4.2 million. (Source: IBM)
The average cost of a malware attack on a company is $2.4 million. (Accenture)
Office applications were the most commonly exploited applications worldwide in Q3 of 2018. (Kaspersky Lab)
41% of companies have over 1,000 sensitive files including credit card numbers and health records left unprotected. (Varonis)
In 2018, the number of data breaches in the U.S. amounted to 1,244, with over 446.5 million records exposed. (Identity Theft Resource Center)
93% of malware comes from emails (Verizon).
22% of data breaches in 2017 involved the use of stolen credentials. (Verizon)
Data protection and what it means for your business
While the immediate damage of breaches and malware attacks seem to be strictly monetary, much larger, long-lasting effects wreak additional havoc upon businesses. According to a Forbes Insights report, 46% of companies suffered damage to their reputation and brand value because of a cybersecurity breach. While a reputation can be repaired, the customers that once trusted your business have already moved on to an alternative they can trust. As Warren Buffet once said, "It takes 20 years to build a reputation and five minutes to ruin it. If you think about that, you will do things differently."
Moreover, revenue going forward will diminish due to decreased competitive ability and system downtime. If compromised, any trade secrets or data that once gave you a competitive edge amongst your industry peers will be sold to competitors or dumped onto the web, becoming public knowledge.
What should your company do?
Have a plan in place. Firstly, if you aren't sure you have a system admin on staff, go find out. If you don't have one, hire someone immediately. Next, work with them to establish a plan of action (i.e an incident response plan) for when, not if, a data security issue occurs. Being caught off-guard for such an event will have drastic repercussions that will reverberate throughout your business. This incident response plan should include all roles and responsibilities throughout the organization, including Legal, IT, Marketing, and HR.
Companies should also consider demonstrating their commitment to protecting data by offering an identity protection service as a voluntary or employer-paid benefit through a reputable provider like Generali Global Assistance (GGA). One bonus of offering identity protection from GGA is that ours includes a resource library with content that can help educate employees on cyber safety best practices, as well as monthly identity-risk status emails that assist in keeping cybersecurity at the top of employees' minds. Don't wait. Thank your system admin for all the hard work they do behind the scenes, and learn how GGA's identity protection service can help protect you and your employees today.