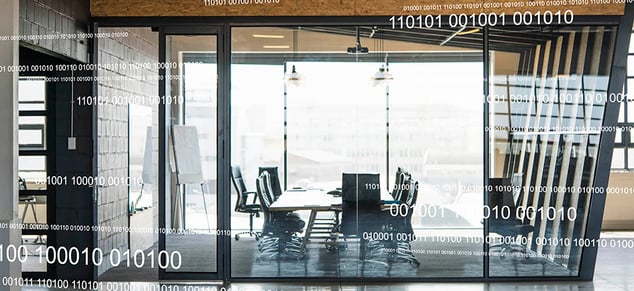 Estimated Reading Time: 6 Minutes
Flexible teleworking options have been trending in the workplace for years now, and many experts predicted this perk will one day become obligatory for organizations that wish to remain face-to-face five days a week. The rapid global spread of COVID-19 fast tracked its necessity – and in a big way. We'd be remiss to walk away from the experience not having learned something.
For many organizations, some of their employees already spent at least some portion of their work week at home, which made their transition to a fully remote workforce an easier one. Others likely had a much steeper learning curve to overcome when figuring out how to keep their business running productively and efficiently with an empty office.
Wherever your company fell on the spectrum, we hope you have a firm footing now, and can look to the future with confidence that teleworking benefits can be a successful endeavor – that is, when certain precautions are taken. Indeed, while remote working often makes for happy employees, it can also contribute to even happier hackers.
Is your organization equipped to handle the innate cybersecurity risks that teleworking can bring, and are your employees fully informed?
Start with a Safe Teleworking Policy
Whether you're still grappling with the fallout from the COVID-19 pandemic and rushed to execute the teleworking piece of your business continuity plan or were already providing employees with flexible work-from-home options each week, a safe teleworking policy is crucial.
Robert Yaus, Chief Information Security Officer, at Generali Global Assistance (GGA), weighed in: "Hackers are actively exploiting vulnerabilities associated with teleworking. This puts employees' personal information and company information at increased risk, so it is important that they follow basic cyber hygiene recommendations. Make sure your employees' home networks are secure, that they're using unique and strong passwords, and that common sense prevails when it comes to phishing attempts." GGA also recommends the following additional precautions for employees to be included in your policy:
Do not save company information to personal computers, cloud storage, or portable media.
Do not use personal email accounts for work purposes.
Never leave laptops or devices unguarded, such as in your car or at a coffee shop.
Never use public Wi-Fi; stick to secure, password-protected home Wi-Fi or mobile hotspots.
Change the default admin passwords, enable strong Wi-Fi security, and apply the latest patches to all devices on your network.
If an email, phone call, or online message seems odd, suspicious, or too good to be true, it may be an attack. Always look closely at the sender's address and be alert for spoofed hyperlinks or websites and suspicious attachments.
Secure your accounts and enable two-step verification when possible. Make sure each of your accounts has a separate, strong, unique password.
Keep Employees Educated
While a safe teleworking policy can certainly lay the groundwork, building and maintaining a culture of cybersecurity within your organization requires continuous company-wide education and training. Employee error has been and will likely continue to be one of the top causes of data breach incidents. The most common (and easiest) way for hackers to access and steal sensitive information is through spear phishing – a form of phishing in which a hacker attempts to target one or more individuals using finely-tuned, personalized tactics to trick users into breaking security procedures. And during time such as this, the onslaught of phishing attempts and other scams only increases.
To date, we've seen bad actors pitch everything from the promise of COVID-19 vaccines to home testing kits to economic relief under the guise of the government. It's more important than ever for employees to stay vigilant, particularly when your workers are no longer protected by the more-secure confines of your office network.
The reality is, all staff are stakeholders in a company's data protection, and therefore must be trained on security best practices and requirements on an ongoing basis. An organization that makes cyber security a top priority will reflect that in all aspects of its business so that responding safely to cyber threats becomes second nature for staff.
Proactively Protect Them
While we are hopeful that we won't face a repeat crisis that will make long-term remote working a requirement, organizations should nonetheless do all that they can to minimize their remote workers' exposure – no matter how often they're doing business from the comfort of their home. Teleworking options will continue to be demanded by employees, and if anything, this experience will hopefully demonstrate that productivity levels not only remained intact, but actually increased.
This is why savvy companies are proactively protecting their employees with a comprehensive identity protection platform. Offering such a benefit means your workers will, by default, become more informed consumers and less vulnerable to cyberattacks. This level of protection should always include proactive benefits, such as 24/7 access to education and tools, as GGA's identity protection services do. We take a very holistic approach to identity protection – the foundation of which is education – and build upon that with our monitoring services and online data protection software that protects against phishing, keylogging, and ransomware attacks.
The goal is to make our users feel more empowered so that they can take control of their data – and the data that they handle for your organization. For employers, this educational piece translates into more-informed, digitally-safe, and cyber-conscious employees. In a nutshell, companies with these kinds of employees are the ones who will also be less likely to fall victim to a cyberattack or security incident.
Get Started Today
As a benefit with far-reaching value to both your company and your employees, HR administrators are realizing that identity protection is a must-have in today's boundless workplace. With GGA, you can choose an identity protection program that best meets your employees' needs, as well as your overall HR strategy, with a multitude of different product bundles and branding options. You also don't have to worry about meeting specific enrollment timelines, as you do with other benefits; GGA's identity protection services can be offered any time of the year and can be implemented in as little as 30 days, with little HR administration.
Request a demo today to learn how Iris Identity Protection can help protect your employees both inside and outside of your office walls.