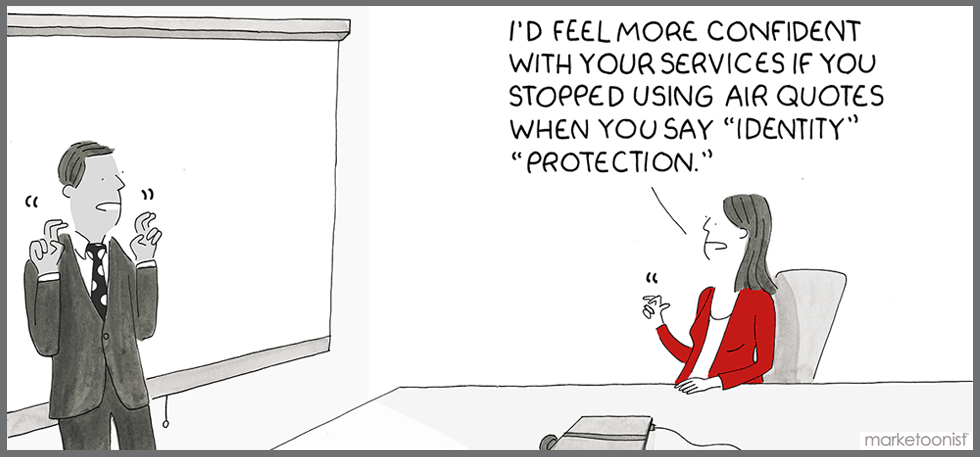 Consumer trust is proving harder than ever before to earn, with 42% of consumers claiming to distrust brands and 37% sharing they trust brands less than they used to. This issue has plagued companies across many sectors but with financial services and banking rated as the least trusted industry, financial institutions are particularly challenged by it.
The Cause of the Breakdown in Trust
Recent research points to two major contributing factors to this breakdown in the consumer-brand relationship. A survey by McCann revealed that 42% of Americans find brands and companies less truthful today than 20 years ago and our own recent ORC survey found that 40% of consumers say businesses are not doing all they can to protect their data. Considering that 75% of survey respondents also indicated they are either very or somewhat concerned about having their information compromised in a breach, this lack of transparency and commitment to protecting data is clearly taking its toll on their trust in the brands they rely on.
One potential solution to this problem is offering identity protection services to demonstrate your organization's commitment to protecting customer data. In fact, research has revealed that over half of all Americans (55%) would have more confidence that businesses are actively working to protect their data, and reduce their risk of identity theft or fraud, if these businesses were to offer identity protection services, whether for free or at a cost. However, while identity protection services can be an effective way to build customer trust and loyalty, if offered in a dubious way or from a provider that doesn't meet your own high-quality standards, offering it can have adverse effects. Organizations exploring offering identity protection services should consider the following when evaluating providers.
Evaluating Identity Protection Providers
Look closely at the quality of the most valuable features included
The amount of value identity protection services offer consumers – and the resulting loyalty and trust they inspire - varies depending on the features and customer service. A recent study we commissioned indicated that resolution assistance is the feature consumers would find the most beneficial in protecting them from the potential effects of identity or financial fraud. It revealed that 90% of consumers believe falling victim to identity theft would have a significant impact on their life and 64% of them shared they would look for an identity protection provider whose expertise would save them time if they became an identity fraud victim. Despite this, resolution assistance is one aspect of identity protection that varies widely across industry providers. Some offer nothing more than written instructions on how consumers can resolve their identity fraud issues themselves.
However, at GGA our people-first approach has driven us to put a big emphasis on delivering award-winning, hands-on resolution service to customers to ensure our identity protection provides high value to our clients and their customers.
Determine if they are clear about the features included
The FTC famously fined one well-known identity protection & insurance provider twice within a two year span for describing features in a misleading manner, among other cited violations. Specifically, it alleged that the company falsely exaggerated in its advertising the level with which it protected consumers' sensitive data and the speed with which it would send alerts that a consumer may be a victim of financial fraud or identity theft. This famous case highlights the importance of offering services from an identity protection company who provides details and clear descriptions of its services to your company, for both your own knowledge as well as to use in your marketing of the product to customers.
At GGA, we strive to continually keep the people behind the data at the heart of our work by not only offering features and a level of service that adds value to customers' lives but also by explaining our product and its benefits in detail. Additionally, we work closely with our clients to provide tailored marketing support, which includes development of marketing and training materials focused on product information and benefits, to help our clients launch successful programs that both meet their business goals and best serve their customers.
Assess if they enable and support ethical sales models
While the sale of an identity protection product and billing transparency is often left in hands of the institutions offering it, not necessarily those providing the services, there are things providers can do to best enable their partners to offer it in a manner that best serves customers' needs. For those institutions who sell the product via a website hosted by the identity protection provider, they should assess if pricing and frequency of billing are clearly listed on the site. Additionally, they should check if any type of recurring communication is sent to customers to remind them of the service they purchased and its value. This can help their customers avoid feeling tricked into paying for something without receiving anything in return. Finally, for those institutions evaluating providers - who plan to offer the product via a phone customer service representative or a bank teller - they should ask prospective providers if they offer sales training support.
At GGA, we understand that even the best customer service and technology can be overshadowed by something as sensitive as billing. That is why, in addition to clearly showing product prices and billing information on our direct sale identity protection portals' homepages, we also offer tailored sales training support. This support includes live and pre-recorded webinars, in-person trainings, and consultative business development support from an assigned account director.
Restoring Customer Trust by Protecting them from Identity & Financial Fraud
In this increasingly competitive consumer products and services market, we understand it's more challenging than ever for businesses to find services to offer that truly differentiate their organization by adding value to the quality of their customers' lives. Moreover, with consumer trust reaching new lows, institutions should be increasingly mindful that they services they offer help build customer confidence, rather than undermine it. That's why our comprehensive identity protection service offers our clients the superior level of technology and service that they expect, helping them meet their goals while also providing the peace of mind about financial fraud their customers are looking for – resulting in increased loyalty to the company providing it to them. With over 50% of consumers reporting they plan to purchase identity protection in the next two years, and the majority of them looking to their trusted financial institutions to buy it, consumers will be looking to your company for the protection they need. To learn more about offering it from a company consumers have trusted for over 30 years, request a demo.