At Generali Global Assistance (GGA), we have been providing assistance and protection to customers for over 30 years. In that time, we have come to learn a trend that recent research has confirmed – customization drives loyalty. We understand that one size does NOT fit all. Studies show that consumers are expecting, if not demanding, personalized experiences. And, the businesses that are already adapting to these consumer expectations by delivering products and services customized to their customer needs are reportedly experiencing increased revenue as a result as a result.
Customization can be an especially effective tool for financial and insurance organizations. Consumer surveys have revealed that offering personalized products and services to customers, ones that meet their unique needs, has led to significant increased loyalty specifically for financial and insurance institutions. That loyalty can be further amplified by offering services that both are not only customized to their needs but also address other factors that contribute to their loyalty. Research has revealed that one major contributor to loyalty for both financial and insurance institutions' customers is receiving actionable, proactive financial safety advice. Other services that U.S. consumers indicated they would like to receive from their life insurance provider are ones that support senior citizens, especially in emergency scenarios. And, unsurprisingly, customers of both types of companies indicated being offered competitive pricing and discounts positively contributed to their provider loyalty as well.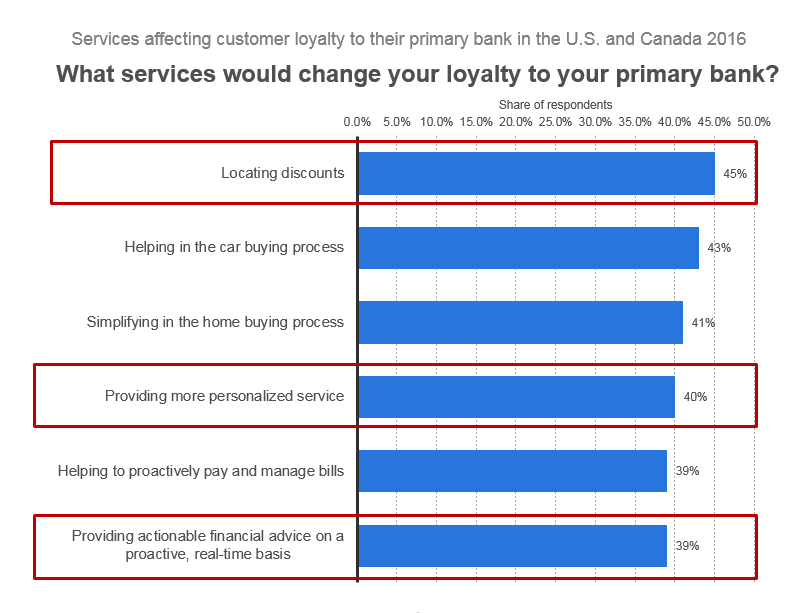 Offering a Service that Addressees These Needs
Consumers are now looking to purchase more services from their banks and insurance providers, and one service in particular research has revealed they are looking to these organizations to purchase is identity protection. In our recent survey, over 50% of consumers shared they are looking to purchase identity protection in the next two years, and the majority of them say they will look to their trusted financial and insurance companies to buy it.
However, what makes identity protection an especially valuable service to offer is that it addresses all the aforementioned consumer needs and can effectively build loyalty -- if offered in a package or variety of packages that are customized to an organizations' unique customer needs. For savvy companies looking to build customer loyalty, retention, and resulting revenue by offering identity protection, the key to maximizing the potential benefits of providing such a service is to ensure the features, coverage, branding, and purchase options of the service are customized to their customers' needs -- and that it is competitively priced to fit within their budgets.
Customizable Solutions that Remain Competitive
Partnering with GGA can provide your customers with the protection they are seeking while positioning your organization as a market leader. We specialize in creating identity protection programs that meet the unique needs of every organization, all while remaining one of the most competitively priced services on the market. Our flexible identity protection programs offer:
Voluntary offerings or embedded programs
Customizable individual, couple, and family plans
Rapid implementation and hassle-free administration
Choice of client branded, co-branded, or Generali Global Assistance branded program
Variety of product feature bundles
Our comprehensive identity protection program puts customers in control of their identity with some of the most highly-demanded services and features. In one easy-to-use dashboard consumers can choose which tools they want to use and how much data they want to share, to provide them with the level of protection they are seeking. In our convenient dashboard consumers can access all of the following:
Library of prevention resources
Online data protection suite
Access to certified identity protection experts
Advanced identity and credit monitoring
Suspicious activity alerts
Award-winning resolution services
Up to $1 million of identity protection insurance*
We offer a multitude of features in a variety of product bundles, so we can create a program that best fits your customers' needs and will help you grow customer loyalty, retention, and revenue. To learn more achieving your business goals by offering a customized identity protection package from GGA that will meet your customers' needs and budgets, request a demo today.
*Identity Theft Insurance underwritten by Generali U.S. Branch. This summary is intended for informational purposes only and does not include all terms, conditions and exclusions of the policy. Coverage may not be available in all jurisdictions. Please refer to the actual policy for terms, conditions, and exclusions of coverage. Generali U.S. Branch (New York, NY; NAIC # 11231) operates under the following names: Generali Assicurazioni Generali (U.S. Branch) in California, Assicurazioni Generali – U.S. Branch in Colorado, Generali U.S. Branch DBA The Generali Insurance Company of Trieste & Venice in Oregon, and The Generali Insurance Company of Trieste and Venice – U.S. Branch in Virginia. Generali U.S. Branch is admitted or licensed to do business in all states and the District of Columbia.