Estimated Reading Time: 2 Minutes
Today the Europ Assistance Group is holding events at our company offices around the world to discuss diversity and inclusion, as part of a wider initiative of the Generali Group #BeBoldForInclusion. To help explain more about our global and local initiatives, goals, and what it means to us to #BeBoldForInclusion, we spoke to the Chief Human Resources Officer for North America, Angela Kinsella.
Can you explain what the Europ Assistance Group is doing globally and locally today, on International Women's Day, to celebrate our commitment to #BeBoldForInclusion?
The Europ Assistance Group has asked its global community of companies to join together on International Women's Day, March 8th, and engage in discussions with our employees on the importance of diversity and inclusion. We are having events at each of our USA based offices in Maryland, Florida, and California and during those panel discussions and forums, we will encourage our employees to share their perspective on what we do well and where we can do better. I'm looking forward to discussing with my global HR peers the feedback they received in their events, to learn where there are similarities and differences across our countries and how we can support each other in reaching our Group and local diversity and inclusion goals.
What does inclusion mean to you, personally?
For me, inclusion is a total sense of belonging. When we build an inclusive culture we allow not only for employees to reach their full potential, but also our company. This is done by respecting and valuing our employees for who they are as an individual and as a member of a cultural, religious, or other group. An employee in any position in the company should have the same experience of belonging and acceptance.
What are your key priorities for areas to improve inclusion and diversity in Generali Global Assistance (GGA)?
This year we are investing in building our managerial capability through all levels of management. The investment in our managers will support their employees and teams. We believe this will create an even stronger foundation for demonstrating to all employees that we are open to hearing different perspectives and new ideas from each team member.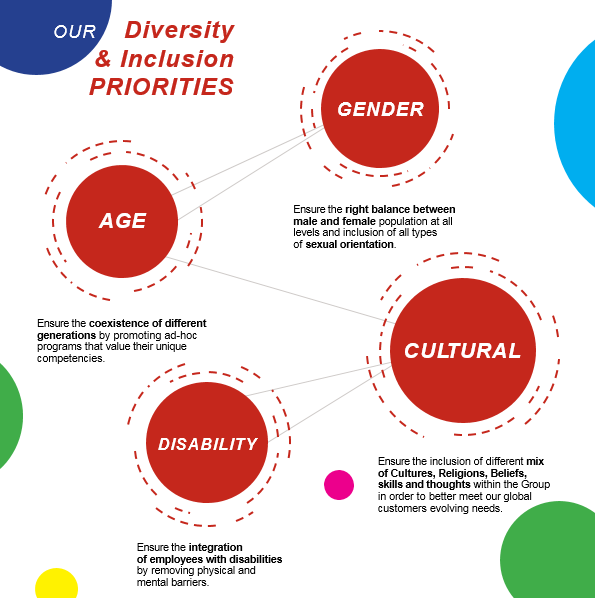 Do you have any concrete examples or real cases in mind that could illustrate our commitment to diversity & inclusion within GGA and how we've benefited from that commitment?
Oh my goodness, at GGA you experience the power of diversity when you walk through the door. You see it with the colorful fashions, you hear it with the multiple languages, and you feel it with the energy and enthusiasm of our employees. The GGA gift of diversity is a key success factor in servicing our customers who call from around the world. The broadness of our employees' life experiences allows us to understand our customers, provide excellence assistance, and help our company reach its full potential.