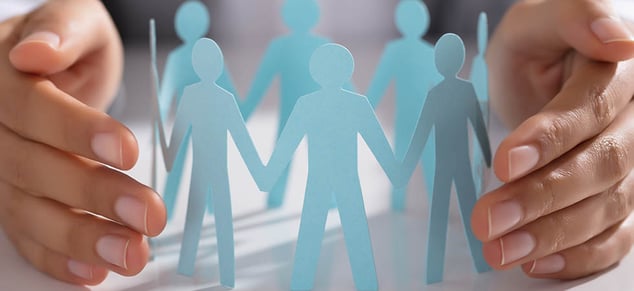 Estimated Reading Time: 4 Minutes
It's no secret: COVID-19 (aka coronavirus) has disrupted lives, livelihoods, communities, and businesses across the globe. With business storefronts temporarily shut down, 7.14 million Americans filing for unemployment, and the rise of coronavirus-related scams, it's more important than ever for organizations like yours to counter these disruptions with empathy and positivity. With assistance from skilled HR professionals, organizations across the country have devoted their time and resources to making a positive impact on their communities while also protecting their employees from COVID-19 and identity theft. So, what are some ways your organization can offer a helping hand to its internal and external stakeholders?
#1 Update HR Guidelines
Updating your organization's guidelines is paramount to not only the continued revenue-generating success of your business, but also to its safety and security efforts. The policies should include remote work rules, family medical leave allowances, travel restrictions, and sick leave guidelines.
For instance, Walmart updated its HR guidelines to now allow any worker concerned about contracting coronavirus to stay home "without penalty." Additionally, Starbucks has extended its mental health benefits to offer "personalized, confidential mental health care, 20 free in-person or video sessions every year for partners and each of their eligible family members."
#2 Ongoing Employee Training
This one is a bit of a no-brainer, but providing your employees ongoing training will certainly continue to set them up for success. Be it training for how to quickly report potential coronavirus exposures to the local health department or cross-training to support those who may be out sick, now is the time to show your employees that you care about their health, safety, and career development.
Offering this training doesn't have to be expensive either. LinkedIn has taken this time to open up 16 of its learning courses for free, which includes courses that provide tips on how to stay productive, use virtual meeting tools, balance family and work dynamics in a healthy way, and so much more. Or even the Barbara Bush Foundation for Family Literacy which, in response to the global pandemic, has created a toolkit of resources for parents to use to help them navigate the plethora of free online resources available to them.
#3 Identity Protection & Cybersecurity Education Resources
Education is key to preventing a cybersecurity incident and protecting your employees from identity theft. What's more, data breaches caused by human error (employees compromised by phishing attacks or lost/stolen devices) accounted for 49% of data breaches in 2019. That's why it's important to take this time to increase employee security awareness by keeping employees apprised of the latest cybersecurity attack types and ways to defend themselves against them. According to PhishMe, susceptibility rates are as low as 5% when employees are well-trained and phishing tests are executed and reported regularly and correctly.
To help support businesses in their cybersecurity efforts, Mastercard has begun providing U.S. small business owners with access to "necessary resources to help protect their business and their employees through free cyber vulnerability assessments and identity theft protection for the 28 million small businesses eligible to participate in the Small Business Administration's Paycheck Protection Program." You can also share our free Cyber Literacy infographic with your employees to help them brush up on their cyber jargon so that they're better equipped to fend off today's hackers.
#4 Employee Support
After the outbreak of COVID-19, many organizations found themselves in the difficult position of massive layoffs and store closures, so we understand that this particular step may not be possible for all businesses to accomplish. Amazon has chosen to show their employees support by giving raises to current staff in order to deal with coronavirus demands, while Workday is giving their employees an additional two weeks of pay in order to help them during the coronavirus pandemic.
#5 Community Outreach
Practicing community outreach shows your employees you care about them and the communities they reside and conduct business in. Help protect your community during these challenging times by offering them your company's products/services for free or at a discounted rate on a limited-time basis. For example, U-Haul is offering 30 days of free self-storage to all college students who have been impacted by schedule changes at their universities, and &Pizza has taken to offering employees and their families free, unlimited pizzas.
If offering products at a discounted rate isn't in the cards for your organization, think about ways your organization can give back and protect its community (and thus employees) during this time. For instance, AlphaGraphics shared this blog post which details 7 activities (including a cute coloring book) families can enjoy together while their kids are home from school. Bite Beauty, a makeup brand, launched their #BITEtheBLUES social media campaign, which highlights inspiration and positivity during these challenging times. Sometimes just reminding your customers and employees about the positive things they can still do or look forward to can be extremely helpful and uplifting.
It's important to meet these challenging times with support for your employees and community – show them that you care for them, the issues they face, and are still here to support them. If your organization is interested in offering its employees identity protection to cover them through COVID-19 and beyond, request a demo to speak with one of our sales reps today.