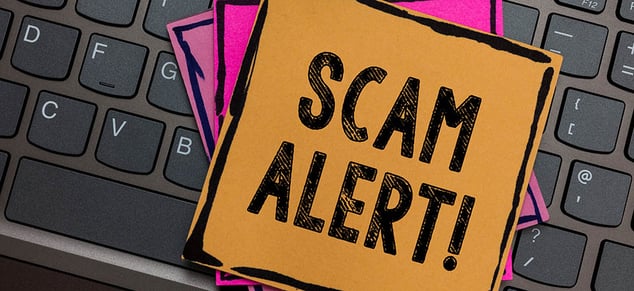 Estimated Reading Time: 6 Minutes
As of today, a simple Google search for "coronavirus" brought up over 25 billion results. From social media, television, and online news curators and magazines, there hasn't been a shortage of coverage on the virus. However, while your customers have been "pre-occupied" staying up-to-date on these life-changing developments, scammers have been working harder than ever to devise new schemes in order to steal your customers' money and identity.
Whether it's forwarded messages intended to incite panic or attempts to sell your customers "coronavirus treatments," advise your customers to stay alert for these phishing and smishing tactics that have been seen making their way across the country:
Fake News
Since the outbreak of the coronavirus, American consumers have been inundated with news and media about the virus; however, sometimes it can be hard to decipher what's real, what's fake, and what's simply intending to cause panic.
So, before sharing any info about the virus (be it via a forwarded text message, online article, etc.), your customers should follow the Federal Trade Commission's (FTC) recommendation and ask themselves these three (3) critical questions:
Who is the message from?
What do they want me to do?
What evidence supports the message?
Coronavirus Treatments, Vaccines, and Home Tests??
Last month, the FTC & the Food and Drug Administration (FDA) issued warning letters to seven sellers of "unapproved and misbranded products, claiming they can treat or prevent" the virus. As of yet, there are no proven or approved cures, vaccines, drugs, or investigational products that can treat the virus.
To help protect your customers from falling victim to these "miracle product/service" advertisements, advise them to stay informed by visiting the Centers for Disease Control and Prevention's (CDC) FAQ page & the FDA's website to learn about the development and approval of any treatments for the virus.
Additionally, since there aren't any proven and approved cures for the virus, counsel your customers to be on the lookout for a number of phishing and in-person scams offering:
Mobile apps providing a COVID-19 tracking map. Running in the background of these apps is a customized version of SpyMax, which allows scammers control of your customers' mobile device information. If your customer is on the hunt for an app with this type of feature, advise them to download an app from a reputable source such as The Weather Channel.
Claims that your customers can reserve a COVID-19 vaccine. As mentioned earlier, there are no proven and approved vaccines for the virus as of yet, so claims such as these are simply intended to steal your customers' personally identifiable information, and thus, their identity.
Investment opportunities. These scams claim COVID-19 has created financial opportunities that, if not acted on quickly, your customers will lose out on an "investment opportunity of a lifetime."
Products we all know are nearly impossible to get. Looking at you, toilet paper and hand sanitizer.
Home tests. No, the American Red Cross is not offering home tests.
COVID-19 computer/device software. You don't need to buy COVID-19 software to protect your computer from the virus, as the virus cannot infect those items.
Coronavirus Stimulus Checks from the U.S. Government
We have all felt the impact of the coronavirus outbreak. While some businesses are still able to operate with their entire workforce fully remote, there are millions of Americans who have, unfortunately, lost their jobs as a result of local and state coronavirus enforcements and guidelines. To help Americans weather this storm, the U.S. federal government recently passed a bill which aims to provide American citizens with coronavirus relief checks; however, scammers are taking advantage of this positive news in an attempt to steal consumers' – your customers' – personally identifiable information.
Remind your customers that the government will not ask them to pay anything upfront in order to get this money AND that the government will never call them to ask for their Social Security number (SSN), bank account, or credit card number. If they do happen to receive an email or phone call stating these claims, inform them to delete the message and/or hang up the phone immediately.
8 Tips on How to Avoid Scams
It's an unfortunate reality, but scammers will use any situation to their advantage in order to steal consumers' personally identifiable information – including natural disasters and world-wide pandemics. That's why it's more important than ever for consumers to stay vigilant, practice good cybersecurity and identity protection habits, and proactively protect themselves with a comprehensive identity protection program that they can trust.
Share the below list of tips with your customers to help them avoid any scam and prevent them from becoming a victim twice – 1) by the virus and 2) by scammers.
Don't click on any internet sources you don't know or aren't familiar with, as they could re-direct you to a website containing malware.
Never respond (or forward!) unsolicited emails, text messages, or social media messages from unknown or unfamiliar senders. Simply delete the message.
If you plan to make donations to a charity, be sure you know the charity and the intended cause the donation is meant for. You should also be sure to check the legitimacy of the charity before making a donation via online resources, such as Charity Navigator or CharityWatch.
Make monitoring activity on your financial and credit card accounts part of your routine.
Set up two-factor authentication where available for extra security.
Rethink the information you're sharing online (specifically social media). With so much information leaked from previous data breaches, hackers are able to piece together compromised information with the information you publicly share to create a holistic picture of your identity.
Always use strong and unique passwords, and don't reuse passwords across multiple platforms, as this allows hackers to access multiple accounts when just one was breached.
Sign up for a comprehensive identity protection service that includes credit and identity monitoring if you haven't already. Just be aware that not all identity protection services will protect you equally, so make sure you find a service with powerful monitoring capabilities and 24/7 full-service resolution assistance, should you ever find yourself the victim of fraud.
When assessing identity protection programs, make sure your customers choose one that also includes high risk transaction alerts. At Generali Global Assistance (GGA), we monitor tens of millions of high-risk transactions with more than 300 of the nation's largest companies to uncover and thwart account takeover attempts. Comprehensive identity monitoring services should utilize automated monitoring and human threat intelligence for its internet (surface, deep and dark web) surveillance and compromised credential monitoring. The monitoring should also include alerts so that if your customer's information is detected, they can quickly assess and work with resolution experts to minimize any impact. GGA takes it one step further by including context around what the alert is and recommendations around what the end-user should do to resolve it.
At GGA, we firmly believe in putting people-first, and are committed to being available 24/7/365 to help you and your customers through this pandemic and beyond. Request a demo, and be sure to follow us on Twitter, Facebook, and/or LinkedIn to stay up-to-date on new scams and identity theft tactics.