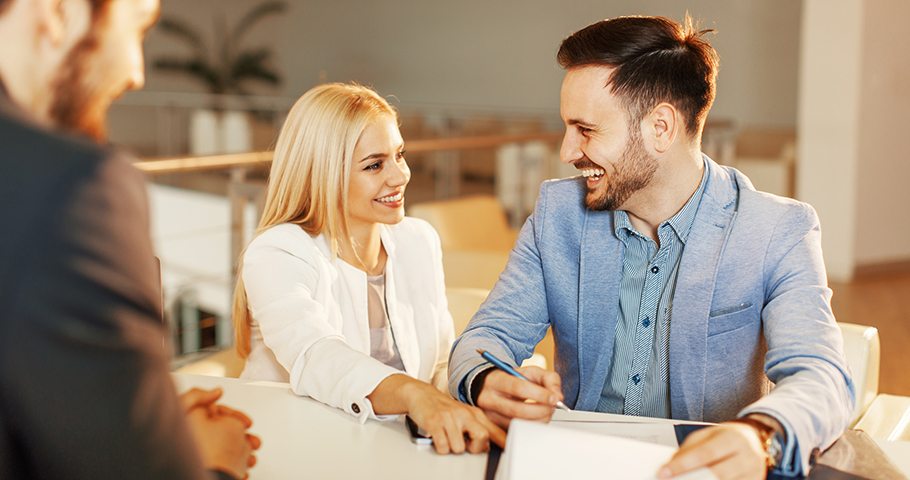 Cross-selling in the financial industry has gotten a bad rap lately, and amid the bad press and increased financial regulation many companies are reevaluating their revenue generating efforts to avoid unethical and even illegal sales activity. But cross-selling doesn't have to be a dirty word. When done right, it can benefit both businesses and consumers alike.
It's well known that cross-selling is an important source of business income and a good opportunity to introduce products and services to your customers. But tactical selling can backfire and tarnish an otherwise good customer journey. Companies that strategically fine tune their cross-selling efforts to engage with personalized offerings will heed better ROI of their most loyal customers.
---
"Customers own on average 8-12 financial products, but only 2-3 at a single institution."
---
Selling additional products and services that provide solutions to identified needs—ultimately helping your customers prosper—can increase retention and is key to successful cross-selling. But before any of this happens, your company must build trust with consistent quality customer service and dedication to understanding your customers by communicating clearly and ethically. The focus of cross-selling should be to enhance an already happy and engaged customer's relationship with your brand, not to inundate everyone with confusion.
Enabling Financial Regulation Compliance
Revamping your company's cross-selling efforts into a more strategic, engaged relationship-building activity not only is more ethical but also will help enable your institution to comply with the financial regulations set forth in the Dodd–Frank Wall Street Reform and Consumer Protection Act and guidelines enforced by the Consumer Financial Protection Bureau. Relaunching these improved efforts starts with being mindful about how you offer relevant, value-added products and services. Here are some ways to ensure your company stays ethical in your path to cross-selling success:
Build a deep relationship with your customers.

A genuine, engaged customer relationship that is based on consistently delivering on your company's promises keeps your customers loyal and more receptive to your suggested additional products and services.

Commit to a company culture that customers admire.

Your company needs your employees to educate and assist your customers. Creating a healthy company culture that invests in your employees and encourages ethical behavior that complies with financial regulations — not just using them as a sales tool—will help manage your company's good reputation and gain respect from customers.

Be transparent and keep cross-selling messages clear.

Ensure your cross-selling messages are clear by communicating what your company is offering, why and how your value-added services are complementary, including what problems they address. Additionally, your company should be upfront and confirm pricing details along with its value in straight-forward, easy to understand language.

Carefully choose product and service partners.

While some valued services may be outside your company's realm of regular business, you can strategically partner with vetted industry leaders that have gained consumer trust. This also shows your customers that you've done your research in partnering with ethical companies.

Use technology to understand your customers.

Most customers expect and appreciate personalized services, especially in the financial industry where the average customer is looking to your company for financial guidance. But no one likes being contacted out of the blue just to be sold something they don't need. Your company should be offering only products and services that make sense. When cross-selling, remember to listen to your customers and use tools that assist in keeping customer profiles accurate. In cross-selling, the more products a customer has with your company, the easier it is to leverage their data for even better targeting and personalization.

Proactively protect customers from fraud.

It's in your company's best interest to improve your customers' financial health and protect them from fraud. Unauthorized cross-selling like opening up a credit card without customer consent is fraud and doesn't just hurt credit scores, it can have other immediate repercussions and compromise not only your customers' well-being but also your company's reputation. Proactively mitigating your company's internal risk of unethical cross-selling can relieve customers' fear from potentially falling victim to any form of unauthorized account activity. Additionally, offering identity and digital protection can also protect your customers' personally identifiable information from a data breach.
Generali Global Assistance and Your Financial Institution
Generali Global Assistance's Identity and Digital Protection Services can support your business goals of ethically cross-selling in a manner that complies with financial regulation. By providing free educational resources that encourage customers to monitor their credit report, and reasonably priced services that monitor and alert suspicious activity like newly opened accounts, your company can mitigate fraud and internal risks of unethical cross-selling.
Generali Global Assistance has decades of experience protecting millions of identities and has earned the trust of leading Fortune 500 companies. Our commitment to successful, ethical partnerships has resulted in a client base that is loyal and referenceable. Identity and digital protection services are an important component to our partners' overall customer portfolio, including their personal privacy and security plans. We continue to invest in and exceed at providing superior customer service that fuels our partners' customer loyalty and growth.
Request a demo to learn more about partnering with us to offer comprehensive identity and digital protection services.