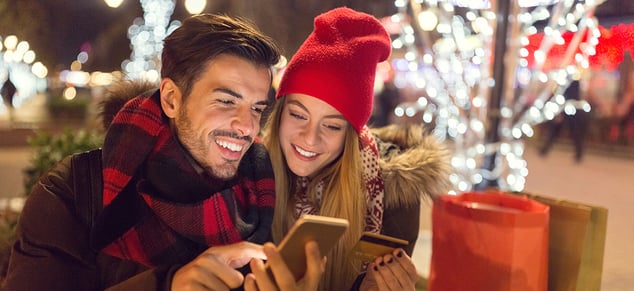 Estimated Reading Time: 4 Minutes
Wait, it's December already!? We cannot believe how quickly this year has flown by! We don't know about you, but time has moved pretty strangely since the beginning of the COVID-19 pandemic. But, if COVID has taught us anything, it's that we all have to look out for each other – that includes both businesses and individual consumers. From supporting small businesses to sharing tips & best practices to help others in our communities avoid becoming a victim of scams and identity fraud. This year we all stepped up to the plate and supported each other as best as we could. That's seriously something to celebrate.
While we're celebrating, you can also share some of that holiday cheer with your customers by gifting them something even the person who has everything is sure to appreciate: peace of mind. How can you do that, you ask? Well, let's first see how well you know your customers' shopping behavior during the holiday season.
For the past five years, we have surveyed over 1,000 Americans year-over-year to gauge their holiday shopping behaviors, perception toward identity theft/fraud, and concerns around doing business with a company that has experienced a data breach. By and large, the survey questions remained the same each year; however, we had to add a few new questions last year thanks to COVID.

Gifting Your Customers Peace of Mind this Holiday Season
We understand the value you place in delighting your customers with products/services they truly value and ones that will enhance their lives and experience working with you. That's why we encourage you to consider offering them comprehensive identity & cyber protection. It's a gift that keeps on giving and is one they'll be thanking you for years to come as you'll be saving them the time, money, and stress if/when they'll need to resolve an identity theft/fraud incident.
Interested in gifting your customers a service that's on their wish list this holiday season? Contact us today to learn how we can help you achieve that goal! And be sure to download our 5th Annual Holiday Identity Theft Survey Infographic eBook to find out even more details about consumers' holiday shopping trends, perceptions, and behaviors!