Estimated Reading Time: 2 Minutes
123456789
QWERTY
password
DEFAULT
We get it. Passwords and managing them can feel tedious. You need a password for your email, online banking account, online merchant stores, subscriptions, online software, Wi-Fi network, cell phone, other devices that connect to the internet – the list goes on!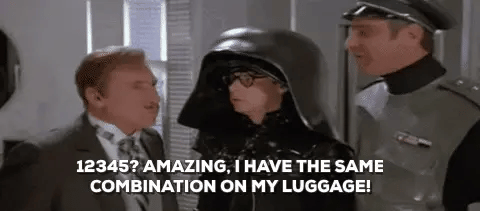 If you're like most people, you're probably using the same password for most of your accounts. 70% of people admit they use the same password for more than one account, according to PC Mag. While that may be convenient in the short term, it may also damage your identity and account security in the long run. If your recycled password gets exposed in a data breach, fraudsters will use that same password to breach your other sensitive accounts. So, how can you create strong password security habits that help make your life easier?
Password Managers
A password manager is software created to manage all your online credentials, like usernames and passwords. The software stores them in a secure, encrypted database and can generate new passwords as needed. And, because the password manager stores all your passwords, you don't need to memorize them or cover your computer with sticky notes containing your credentials. You'll just need to remember one master password to unlock your vault in the manager app, making managing your passwords much easier.
Creating Secure Passwords
Fun fact: a computer engineer from MIT, Fernando Corbato, is credited as the computer pioneer who first used passwords to protect user accounts in the mid-1960s. While passwords have been around for some time, individuals still need to use them to secure their accounts safely.
Create long, strong, complex, and unique passwords for each online account. You should also update your account passwords regularly. So, that password you've been using since college or the one you used to create your first hotmail or yahoo account should be retired. Whether you use a password manager or store your passwords in a password-protected digital file, knowing essential password security tips is critical to securing your identity and sensitive data.
Are you a password security pro? Take our quiz to test your knowledge.
#BeCyberSmart and Protect Your Identity & Stay Safe Online
While fraudsters are hard at work attempting to steal your sensitive information, you can be proactive in protecting yourself from identity theft/fraud and cybercrime by knowing the risks, implementing good cybersecurity best practices, and staying diligent. We also recommend signing up for a comprehensive identity & personal cyber protection program that includes online data protection software, free educational resources, and 24/7/365 access to certified, expert fraud resolution assistance. You can take advantage of our limited-time PC/Mac Health Check cyber protection service to see first-hand how cyber protection services can work for you and others in your community.
Looking for more #BeCyberSmart tips & resources? Follow us on Twitter, LinkedIn, and Facebook, check out our It's Easy to Protect Your Identity & Stay Safe Online webpage we created for Cybersecurity Awareness Month (CAM), and read our other 2022 CAM blogs