Estimated Reading Time: 4 Minutes
Have you ever received an email from a well-known brand claiming that your financial or bank account will be shut down if immediate action isn't taken? What about a text message with a short link perpetuating as a package delivery tracking link? Or even a piece of direct mail claiming you won a prize or the lottery, even though you didn't submit to the contest?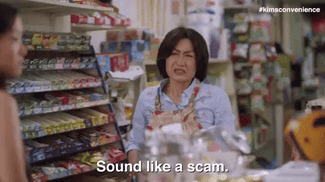 Of course, you have. And you're not alone. We would be hard-pressed to find someone who hasn't received at least a handful of these suspicious communications or similar solicitations.
The impact of those scams – or really any scam – is pretty clear for consumers. In 2021, 27 million Americans lost $28 billion to scams, with an average loss of $1,029 per victim, according to Javelin Strategy & Research. Every year, millions of consumers fall victim to scams, leading to financial loss, emotional damage, and often, even identity theft and fraud. But what about the impact of scams on a business?
The Impact of Scams on a Business
For businesses, scams can:
Erode trust in the business and/or industry
Damage brand reputation
Undermine business security – or the perception of the security provided
Incur a direct financial cost, particularly if restitution is required
Take those scam email messages claiming to be from a financial institution or delivery service, like the one below, for example. Scammers will typically use the company's branding, mimicking it so closely that it looks like the real deal. They'll even spoof the sending address to make it seem like it's coming from the actual company, often changing the domain ever so slightly to not trigger any red flags. Consumers will also see scam messages on social media, in their DMs, or sent directly to a personal mobile device via text or SMS. What's more, automated tools like an email provider's spam filter or other services are not reliable enough to weed out every scam. Thus, scam emails, text messages, social media posts, and the like make it to a consumer's device, urging them to take action.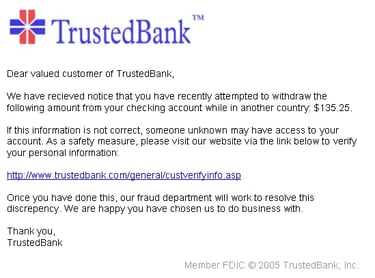 With consumers embracing modern conveniences to conduct business and manage personal responsibilities via email, online, and mobile transactions, scammers' tactics continue to grow in sophistication, making it easier for people to fall victim to those crimes. In fact, imposter scams remained one of the top fraud reports submitted to the FTC in 2021, with nearly a million reports (984,756, to be exact) from consumers.
But when consumers fall victim to scams disguised as a trusted brand, it's not surprising that they'll grow wary of engaging with that once-trusted brand. Mimecast's Brand Trust survey found that most consumers (61%) would lose trust in their favorite brand if they disclosed personal information to a spoofed version of the website or if their money was stolen due to a phishing email impersonating that brand.
The study also found that "refusing to compensate customers who were victims of cyberattacks (35%) and not taking responsibility for cyberattacks leveraging their brand (33%) are the two biggest factors when it comes to loss of reputation." Well, depending on your business, you could be required to refund customers for their losses. For instance, the Federal Trade Commission (FTC) recently announced that refund checks worth over $115 million would be distributed to nearly 39,000 people who used MoneyGram to send money to scammers via wire transfer.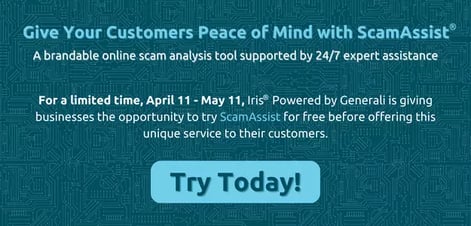 Help Avoid Damage to Your Brand's Reputation and Provide Your Customers Peace of Mind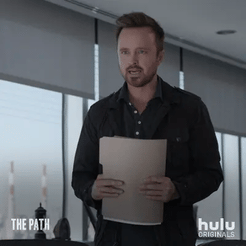 While scammers are hard at work attempting to steal your bottom line and damage your brand's reputation, you can take a proactive step in providing your customers peace of mind and helping them avoid falling victim to scam communications. Help protect your brand and your customers from damages caused by scams with Iris Powered by Generali's ScamAssist®, a brandable 24/7 online scam analysis tool.
One thing that makes ScamAssist different from other fraud detection tools is the critical element of human review. ScamAssist customers can submit suspicious emails for review online – or call our 24/7 U.S.-based team for various types of scams, including email, phone, text (SMS), or direct mail. Our scam specialists give the suspicious message an expert review using Iris' proprietary scoring methodology. The consumer then receives a professional assessment of the message's legitimacy and personalized recommendations for next steps.
ScamAssist allows you to strengthen customer retention, trust, and loyalty by helping your customers in times of worry or doubt:
Avoid scams. ScamAssist is a preventative tool to help consumers avoid divulging sensitive information or losing money to scam solicitations.


Save time. We enable easy online submission of potential scam emails and live support for any suspected scams.


Have confidence. Our comprehensive, proprietary scam evaluation achieves unmatched reliability with a mix of automated + human review.


Become knowledgeable. ScamAssist's online portal educates your customers on how to avoid common scams and keep their information secure.


Get help when they need it most. If your customer has been victimized, our 24/7 resolution team can help them start the recovery process, point them to educational resources, and report the incident to the proper authorities on their behalf.
Interested in trying ScamAssist before offering this best-in-class protection to your customers
?