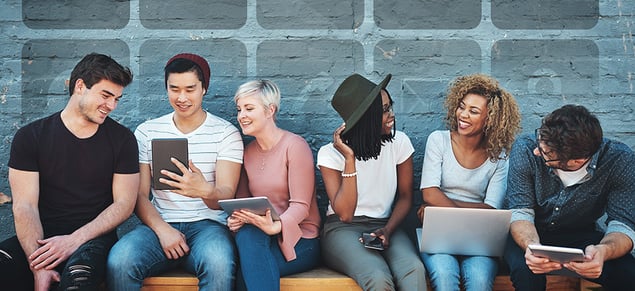 Estimated Reading Time: 3 Minutes
It's fall, y'all! And you know what that means? It's Cybersecurity Awareness Month!
Iris Global Identity & Cyber Protection powered by Generali is proud to champion Cybersecurity Awareness Month (CSAM) and is here to provide you tips and resources to help you and your community – our shared community – practice good identity and cyber protection habits. We even created a special webpage to help everyone learn some of the "basics" of cyber threats and scams, including how to spot a scam, scam facts, cyber terms, and much more! Visit our webpage, The ABC's of Cyber Scams, to test your cyber and scam-spotting skills today.
And please feel encouraged to share these resources with your friends, family, and coworkers. As a tech-focused, people-first company committed to providing organizations with superior identity and cyber protection services, we are proud to support this important initiative to help educate companies and consumers about cybersecurity threats and ways to mitigate those risks. We believe that every individual can help prevent malicious cyber-attacks by establishing effective cybersecurity practices through both digital and non-digital methods (e.g., password safety, knowing how to spot a scam, etc.).
To kick off CSAM, here are three ways to help you and your community #BeCyberSmart:
1. Understand your level of risk for identity theft and fraud.
Identity theft and fraud can, unfortunately, happen to anyone. In fact, 10 million Americans were victims of identity fraud in 2020, according to Javelin's 2021 Identity Fraud Study. With IDRiskIQ™, you can measure your risk level and receive immediate feedback on steps you can take to help lower your chances of becoming a victim. We'll even check your email health for signs of compromise. Simply click here to take your assessment today.
2. Verify if that "too-good-to-be-true" offer is actually…true.
All month long, consumers can use Iris' ScamAssist® research service for free. All you'll need to do is call us at 866.311.1488 with the solicitation (acceptable solicitation types listed below) using promo code CSAM 2021. Within two (2) business days of receipt of message, our ScamAssist Specialists will:
Scrutinize message(s) customers have received for signs of fraud
Conduct research on any organizations a solicitation claims to be from
Compare offers to other known scams and phishing attempts
Provide a written assessment of what we believe is the level of legitimacy of the received message
Acceptable Solicitation Types
Emails
Websites or web links/URLs
Flyers or postal mailings
Phone calls or voicemails
Text messages
3. Get scam and cyber protection guidance from a panel of experts.
Staying informed about the latest fraud trends is key in helping you reduce your risk of identity fraud. For instance, the self and/or involuntary isolation mandates brought on by the COVID-19 global pandemic irreversibly changed the fraud landscape. With more consumers working remotely and the rise in online purchases and transactions, consumers became prime targets for scammers.
Join Iris, Javelin, and other expert thought leaders on October 12 at 2:00 PM ET for a lively discussion around the shifting fraud landscape, as well as guidance to help businesses strengthen customer loyalty. Psst – offering full-service fraud resolution support or services can help with that. Click here to register today for our complimentary webinar.
Let's all #BeCyberSmart this October and beyond by sharing this list as well as the resources on our webpage with our shared online and offline community. Your friends and family will thank you for sending them some of the tools they'll need to practice safe and secure online and identity protection habits.
For more information about CSAM and how your can participate in a wide variety of activities, visit StaySafeOnline.org/Cybersecurity-Awareness-Month. For more scam, identity, and cyber protection insights, subscribe to our blog and follow us on Twitter, LinkedIn, and Facebook for daily updates. Let's all do our part and #BeCyberSmart.
Please Note: No system used to detect scammers, malware or dangerous items is entirely successful or foolproof. Accordingly, members who access and use ScamAssist do so entirely at the members' own risk. Iris' ScamAssist services are provided to members on an "as is" and "as available" basis. Without limiting the foregoing, Iris and its affiliates, agents, partners, and subsidiaries disclaim to the maximum extent allowed by law any warranties, express or implied, of merchantability, fitness for a particular purpose, or non-infringement in connection with ScamAssist. By asking us to evaluate a contact, offer, or solicitation through the Iris ScamAssist service, you agree: 1) that ScamAssist helps to determine whether an offer or solicitation is legitimate or poses an apparent threat, but it may not necessarily detect all threats and credit card scams; 2) that Iris is not responsible or liable for the availability, accuracy, or effectiveness of the techniques, products, tools, or resources used by Iris in its ScamAssist service; 3) that any references or links to websites or resources that Iris may send to you in response to your case do not imply any endorsement by Iris of the content, products, or services of such websites or resources; 4) that by using ScamAssist, you understand that Iris cannot and does not guarantee the safety of items checked using ScamAssist services; and 5) that you assume all responsibility and risk arising from using, "clicking on", responding to, or otherwise engaging with any offer or solicitation that you may receive.