Estimated Reading Time: 2 Minutes
Tech support scams
New account fraud
Imposter scams
Phishing attempts
Credit card fraud
Let's be honest. There are tons of identity theft/fraud and scam tactics out there, with many of these schemes often hard to discern, no matter how cautious and untrusting you may be. For instance, while you may monitor your credit reports for signs of identity theft, you may miss a tech support pop-up scam on your device, waiting for you to click on it.
In 2022, the top two categories reported to the Federal Trade Commission's Consumer Sentinel Network Data Book were identity theft and imposter scams, with 1.1 million identity theft reports and nearly 726,000 imposter scam reports. In fact, 14% of Americans – that's 1 in 5 people – reportedly lost a total of $2.667 billion to imposter scams, with an average loss of $1,000 per victim. According to the FTC, "these scams include people falsely claiming to be a romantic interest, the government, a relative in distress, a well-known business, or a technical support expert," all aimed at stealing your money and identity.
Despite these realities, all hope is not lost!
There are all kinds of ways to stay safe and secure online, but even just practicing these cybersecurity basics can help make a huge difference:
Use strong passwords
Turn on multifactor authentication
Recognize and report phishing – including those tech support scams!
Update your software
Learn how to protect yourself and implement safer online habits by testing your instincts with our interactive quiz below. If you pass, you'll get a certificate you can show off online, letting everyone know you're smarter than an identity thief and scammer! Plus, we'll give you some helpful advice on how to keep yourself and your loved ones safe from identity theft and cybercrime.
What is Another Way to Stay Safe Online During Cybersecurity Awareness Month – and Beyond?
We also strongly encourage you to sign up for an identity protection plan – whether that be identity monitoring and alerts, cyber protection services, or even scam prevention services. You're in luck. For the entire month of October, Iris Powered by Generali is offering YOU the opportunity to try our ScamAssist service for free – sign up here today!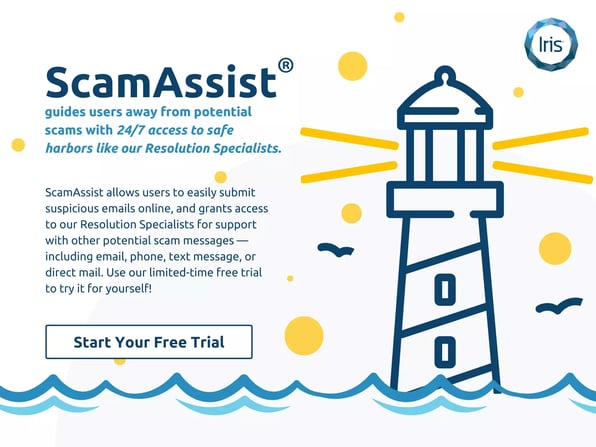 Follow us on LinkedIn and Facebook, read our Cybersecurity Awareness Month blogs, and check out The Iris Guide to Outsmarting a Scammer webpage for more #BeCyberSmart resources.