Estimated Reading Time: 5 Minutes
Everyone wants to believe they're safe from fraud and scams, but the reality is that anyone can become a victim. While there are some safeguards you can put in place to protect yourself, having the resources and awareness are two of the most important things you and your customers can do to help protect against these crimes.
To highlight the importance of fraud and scam education, we've gathered three stories from real Iris Powered by Generali customers to help spread awareness about these crimes. You can also watch our recorded webinar, "The Wild Wild World of Scams: Crazy Scam Stories & How to Mitigate Your Risk" to hear even more wild scam stories and preventative best practices.
Wild Scam and Identity Fraud Stories
Names and personal details have been changed to protect our customers' identities.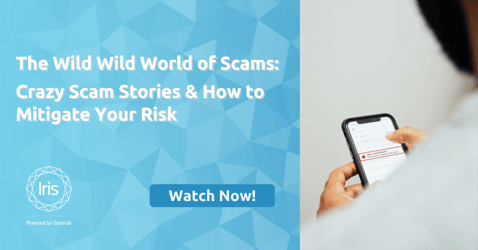 Sweepstakes, Prizes, and Fake Check Scams
Congratulations, you won!
At the beginning of the COVID-19 pandemic, when Jane Doe received a call from an unknown person saying that she had won a contest, she didn't think much of it – especially when the unfamiliar caller said they didn't know when she would receive her prize and would have to get back to her.
She never heard from the caller and quickly forgot about the whole thing.
So, when two years passed, Jane was surprised to see a check for the prize in her mailbox – a whopping $1.2 million.
Along with the check was a request asking Jane to send the company $3,600 for taxes. Believing the check to be legitimate, Jane went to the bank, cashed the $1.2 million check, withdrew the $3,600, and sent it to the company. A few days later, however, she got a notice from the bank that there was a dispute regarding the money she deposited.
Luckily, Jane had Iris Powered by Generali's OnWatch service and reached out to our Resolution Center to let them know of her situation. Our Resolution Specialists were ready to help. Jane's bank gave her the $3,600 back and our team assisted Jane with placing a fraud alert on her credit report to help protect her from future fraud attempts.
What would you have done if you received a check like the one Jane got in the mail? Would you have believed it was legit?
According to the Federal Trade Commission (FTC), there were over 40,000 reports of fake check scams in 2022. These scams work so well because the fake checks look realistic, even to bank employees.
If you have ScamAssist, it's always best to call Iris' resolution experts to get a professional assessment before cashing a suspicious check. Here are some other tips for spotting and avoiding fake check scams.
Tech Support Scams
"Microsoft" pop-up requesting access to your computer
Fred Jones was working on his computer when he suddenly got a pop-up message from "Microsoft" notifying him of a problem with his software and requesting access to his device to fix it.
Worried about losing his work files and personal information, he clicked the link.
However, by doing this, he unknowingly gave a scammer permission to access and control his computer.
Realizing he might have been a victim of a tech support scam, Fred called Iris' Resolution Center for advice and guidance. Our Resolution Specialists advised Fred to change his account and device passwords and implement multi-factor authentication wherever possible to help avoid an account takeover attempt and identity fraud.
Unfortunately, many people fall victim to tech support scams, just like Fred.
According to the Federal Bureau of Investigation's Internet Crime Complaint Center, there were approximately 32,000 victims of tech support scams in 2022.
What's even more wild about these scams is how much money victims lose to them. In 2022, the total loss for tech support scams was around $800 million, an increase of 132% from the previous year.
If you get a pop-up message to call tech support, refrain from engaging with it or clicking on any links. If you're worried there might be an actual problem with your computer, update your software, and make sure to contact your software security company directly by phone or through their website if you need further assistance.
Medical Identity Theft
Medical fraudster receives surgery under a stolen identity
One day, John Smith received a letter containing a bill from a hospital in Texas. As a Virginia resident who had never visited the state of Texas, he was shocked to find an invoice addressed to him for a surgical procedure he had never received.
Confused, John contacted Iris' Resolution Center and explained his situation, wondering if the letter was a scam. Unfortunately, the letter was legitimate, and John's identity and Social Security number had been stolen and used in a wild case of medical identity theft.
Iris' Resolution experts were able to help John resolve this issue. Our team worked with the medical company that sent the bill to dispute the charge and contacted the FTC to file a medical fraud claim on John's behalf.
While this is a case of identity theft and fraud rather than a scam, it's still an important reminder that anyone can become a fraud or scam victim.
According to the FTC, there were over 68,000 healthcare fraud reports, with total losses estimated at $17 million in 2022.
If you believe you've been a victim of medical fraud, file a claim with the FTC. If you have Iris' identity theft protection service, contact our Resolution Center by calling the phone number listed in your OnWatch dashboard.
ScamAssist® Can Help
With the fraud and scam landscape constantly changing, scammers are now able to create scams that are more realistic and convincing than ever before. Offer your customers a preventative tool like Iris Powered by Generali's ScamAssist, to help them minimize their risk.
ScamAssist is a distinctive scam analysis tool that allows your customers to submit suspicious messages for review, such as:
Emails
Website or web links/URLs
Flyers or direct mail
Phone calls or voicemails
Text messages
Your customers deserve an expert who cares. That's why ScamAssist uses a combination of technology and human review to analyze suspicious messages. Then, our Resolution Specialists send the customer their professional assessment and recommendations to help minimize any damage.
To learn more about ScamAssist, request a demo today!
Don't forget to watch the recorded webinar to hear expert insights as well as tips to help you and your customers spot a scam and minimize potential damage from identity theft and scam incidents.