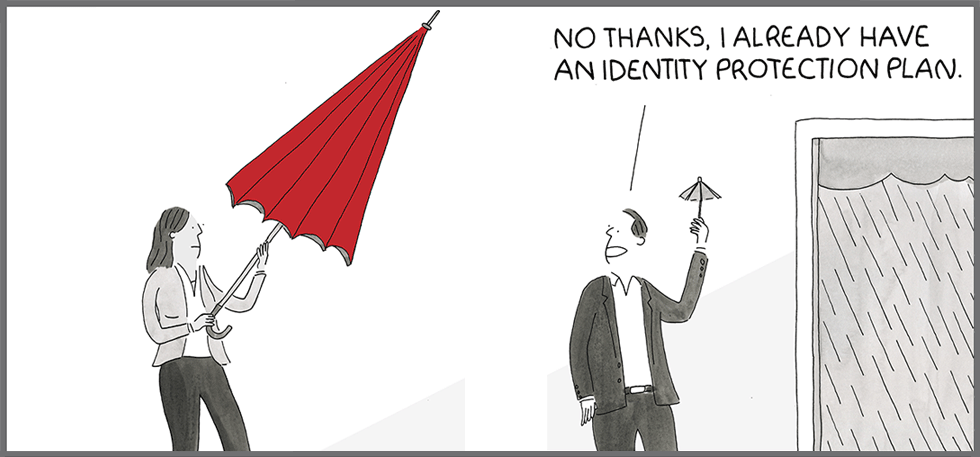 Estimated Reading Time: 3 Minutes
With the increased adoption of new technology and the rise in the Internet of Things (IoT), our lives are more connected than ever before. Yet, as much as consumers have welcomed the convenience offered by technology, it has also come at some cost. In 2018, new account fraud – type of fraud in which fraudsters open new accounts under a victim's name – saw an increase in losses from $3 billion in 2017 to $3.4 billion in 2018. More victims are also finding themselves footing the bill, and 23% of fraud victims had unreimbursed personal expenses in 2018 – nearly three times as many as 2016.
As more major data breaches are announced, it's more important than ever to take steps to minimize the risk of identity theft for your customers, especially since simply offering credit monitoring services alone will not adequately protect them from all the cyber and identity threats they face.
When researching for an identity protection provider for your company to offer, you may be surprised to find that some of the most well-known identity protection providers aren't always what they seem to be. And, in terms of attracting and retaining quality customers, your company should partner with a trusted industry leader whose values match yours and can be seen as a natural extension of your brand.
At Generali Global Assistance (GGA), we pride ourselves in offering top-notch products and services, including our identity protection services. Our people-first approach is what drives our award-winning Marketing and Resolution Center teams to provide such high quality support. Our Marketing and Account Management teams work closely with our clients to offer personalized and effective program growth support that helps our partners meet their business goals. Our trained and expert Resolution Specialists provide compassionate, white-glove prevention and resolution services to our partners' customers. All of this combined creates a positive extension of our partner's brand, all while driving revenue to boost their bottom line.
As your customers' trusted adviser, help them prepare for the unexpected by providing services that will assist them in their time of need.
As you continue to research and evaluate the different companies and their identity protection offerings, here are a few values to consider to help you select the best service and partner:
Comprehensive
GGA's identity protection products are not only offered at one of the most competitive prices, our flexible bundles also allow you to offer the key features that meet your customers' needs. Our products include advanced monitoring technology and award-winning customer service to help minimize the risk of identity theft and quickly resolve any issues that arise. Our comprehensive approach includes:
Prevention to defend personal information and secure digital profile
Monitoring to track identity risk level and detect fraud early via

advanced identity monitoring

and credit monitoring services
Alerts to see suspicious activity and take action immediately
Resolution to repair problems quickly and easily with expert assistance from our Resolution Specialists
Compassionate
We've been helping others in their time of need for more than 50 years. Our award-winning U.S.-based Resolution Specialists take a knowledgeable and empathetic approach to every identity theft case. Unlike many of our competitors, we spend as much time as necessary to ensure each customer is confident that their identity is secure. We can also provide that support to customers in over 40 different languages/dialects.
Easy
Our expertly-designed identity protection platform creates a seamless experience for your customers, while our straight-forward administration and hands-on account management team makes it a hassle-free experience for you. It also helps that our award-winning marketing support grows your bottom line and helps you achieve your business goals.
Trusted
Our successful, long-standing partnerships with some of the world's most innovative enterprises is built on a consistent, disciplined approach to compliance and security that could only be attained by a stable global corporation that consumers have trusted for over 185 years.
Request a demo today to learn more about the benefits of offering identity protection services and partnering with a company whose values match yours.