Estimated Reading Time: 3 Minutes
The unfortunate truth is identity theft and fraud can happen to anyone. In 2022, 40 million Americans were victims of identity fraud and identity fraud scams, resulting in $43 billion lost to these crimes, according to Javelin Strategy & Research.
With the rise of digital purchases and communications, sharing personal information online has become part of life. From applying for credit cards or loans to seeking new employment or engaging on social media, there are dozens of instances when you'll freely give your personally identifiable information away, like your name, address, or Social Security number.
The impact of identity theft, fraud, scams, and cybercrime is quite real, which begs the question: do you need identity theft protection services to help you stay safe online?
What is Identity Theft?
Identity theft occurs when an identity thief steals personal information, such as an individual's Social Security number, financial information, home address, birthdate, etc. The thief can then use the stolen information to create new accounts, such as bank, credit cards, and social media, or sell it – often on the deep and dark web – for financial gain.
Fraudsters can steal your information in many ways, including via social media, online, phone, or in person. Identity thieves may:
Install ATM skimmers to steal credit, debit, and/or ATM card information.


Dumpster dive through your trash to retrieve tax documents or financial statements.


Use phishing tactics to trick you into clicking a malicious link, downloading a virus-infected attachment, or replying with sensitive information.


Hack into your device while you're using public Wi-Fi or an unsecured network.


Look through your social media accounts to find identifying information like your photos or videos or information you might use in security questions like the name of your high school or favorite restaurant.
How Can Identity Theft Affect You?
Depending on the type of identity theft/fraud (e.g., loan fraud, unemployment fraud, credit card fraud, etc.), the impact of identity theft can be far-reaching and complex to resolve. If you're a victim of identity theft, you could experience:
A poor credit score
Significant financial loss
Denial of government benefits
Denial of unemployment benefits
Difficulty in finding a new job
It's important to report and resolve an identity theft or fraud incident quickly. It often takes considerable time and effort to contact the various agencies and organizations – most of which only operate during regular Monday – Friday business hours.
What's Included with Identity Theft Protection?
The components and features of an identity theft protection plan will vary from company to company but often include a singular or combination of the following:
Identity monitoring
Credit monitoring
Identity theft and fraud resolution assistance
Identity theft insurance
Scam prevention assistance and online tool(s)
Educational and preventative resources
How Can You Get Identity Theft Protection Services?
While Iris® Powered by Generali doesn't offer our identity theft protection services for direct purchase by consumers, we have various partners who offer our services for purchase or include them in their core products/services, including:
Mastercard
Nationwide
GEICO
Vodafone
Staples
Acronis
Trend Micro
Aflac
Symetra
New York Life
AGIA
And many, many more!
Try ScamAssist® From Iris Powered by Generali for FREE!
All month long, Iris has been offering businesses and consumers the opportunity to try one of our identity protection tools, ScamAssist, for free! And today is the last day to use the free trial! ScamAssist is a scam prevention tool that allows consumers to submit suspicious emails for review online – or call our 24/7 U.S.-based resolution team for various scam solicitations, including email, phone, text (SMS), or postal mail. Our Resolution Specialists give the suspicious message an expert review using Iris' proprietary scoring methodology before sending you a professional assessment of the message's legitimacy and personalized recommendations for next steps.
ScamAssist is there to help you in times of worry or doubt:
Avoid falling victim to scams
Save time with an easy-to-use online submission process
Become knowledgeable about the latest scams and online threats
Get help when you need it most – either via our scam experts or online portal.
Today is the last day to use the free trial, so skip Go and collect your scam check results now!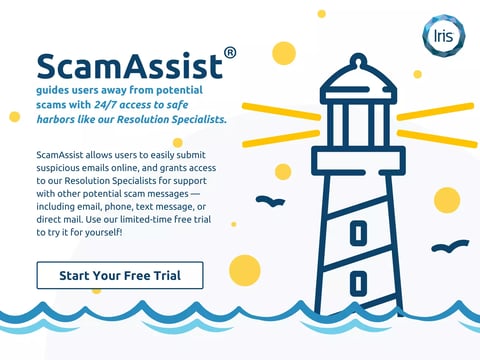 For more #BeCyberSmart resources, follow us on LinkedIn and Facebook, read our other Cybersecurity Awareness Month blogs, and check out The Iris Guide to Outsmarting a Scammer webpage.