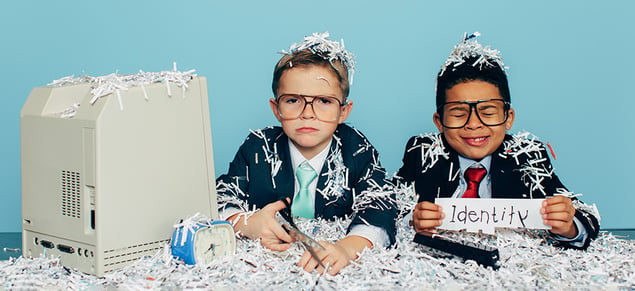 Estimated Reading Time: 3 Minutes
While imitation may be the sincerest form of flattery, identity theft is most definitely not a joke! In 2020 alone, 49 million Americans were victims of identity fraud, losing a total of $56 billion. For organizations, the 2021 Cost of a Data Breach Report found that the cost of a breach rose from $3.86 million to $4.24 million – the largest single cost increase in nearly a decade. As part of this year's Cybersecurity Awareness Month (CSAM), this week we urge businesses to think about ways to equip employees with (and actually use!) the tools to do their part in keeping the organization (and themselves!) safe online.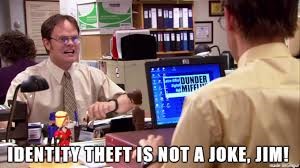 Here are some reminders on ways to take identity theft seriously in your organization:
Review (and actually enable!) device security settings.

Review the safety measures employees should consider when using work devices. Provide instructions on how to change their security settings (password, privacy, location sharing, etc.) and reiterate the importance of installing security updates as they become available. Although they may seem simple, don't take these tips for granted!



Create (and actually attend!) trainings.

Collaborate with IT to create regularly scheduled phishing and cybersecurity-related simulations, trainings, and quizzes throughout the year – not just in October! Use real-world examples that are pertinent to your organization and industry. Dedicate time during business hours for the sessions to show your employees that training is

actually

important!


Develop (and actually watch!) videos. Consider creating a video series to educate employees about the various cyber risks the company could face (e.g. social engineering, phishing, ransomware attacks, etc.). Develop materials that resonate with your employees – content does not need to be dry!


Walk (and actually walk!) the talk. Whatever you ask your employees to do, make sure you do it yourself. If you don't take cybersecurity seriously, don't expect them to either. Stay up to date with cyber threats and share what you know when you know it. Commit to taking cybersecurity seriously – and show it through your actions!



Get ahead (actually ahead!) of the threat and don't panic!

Being able to discern where/how risk can occur can significantly help your employees secure their personal information. Share our IDRiskIQ™ assessment to help employees measure their risk level and lower their chances of becoming a victim. If one of your employees does become a victim of identity theft, be sure to advise them to report the incident to IdentityTheft.gov and/or ReportFraud.ftc.gov. Employees should also consider enrolling in a comprehensive identity and cyber protection program. Contact us to find out if your employees' trusted financial institution, insurance carrier, or cybersecurity provider offers Iris On Watch today powered by Generali – we take this seriously and will help you out!
Looking for even more #BeCyberSmart tips & tricks? Follow us on
Twitter
,
LinkedIn
, and
Facebook
, and check out
The ABC's of Cyber Scams
to take our "Can You Spot the Scam" quiz and read our other 2021 CSAM blog posts!