Estimated Reading Time: 4 Minutes
Stop clicking "remind me later" – it's time to treat those software and system update notifications as your top priority.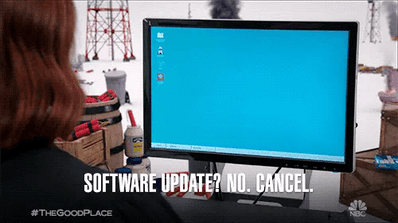 Software updates do much more for your devices and applications than ensuring they run smoothly. Ultimately, clicking "snooze" or "ignore" on an update notification can potentially put your data in danger.
What Are Software Updates?



So, what exactly is a software update?
Software and security updates are improvements made by software developers and manufacturers. These improvements include upgrading your device/application's speed and efficiency, resolving bugs, and introducing new features. However, security enhancements are among the key upgrades or improvements often included in software updates.
Software and app developers strive to protect their users, so they continually search for security vulnerabilities that hackers may discover within the app or device.
If developers identify a weakness, a new update incorporating security enhancements is pushed out to users. These enhancements safeguard you and your data by fixing any vulnerabilities or weaknesses in the system's code that cybercriminals could exploit.
What Happens If You Don't Update Your Software
Unfortunately, many people think putting off software and security updates is okay. In fact, according to the National Cybersecurity Alliance's most recent Oh, Behave! report, only 36% of people always install software updates onto their devices.
Ignoring updates makes your personal information vulnerable and an easy target for cybercriminals. Outdated software systems may result in numerous cybersecurity consequences, including data loss, data breaches, identity theft, and malware infections.
What Should You Update?
Don't be alarmed. Ensuring your devices, applications, and other systems are running on the latest software program can help protect you and your data!
Here is a brief list of the types of devices and applications you should make sure are running on the most current software.
Devices:
Smartphones and tablets

Computers

Smart home devices (e.g., connected speakers, smart thermostats, security cameras)

Smart watches

Internet of Things (IoT) devices (e.g., printers, gaming consoles)
Applications:
Web browsers (Chrome, Firefox)

Antivirus and security software

Productivity apps (e.g., Microsoft Word, Microsoft Excel, Google Docs)

Email apps

Banking apps

Social media

Messaging apps (e.g., WhatsApp, Facebook Messenger)
See the bottom of this blog for direct links to instructions for updating popular devices.
Most of these applications allow you to update software directly in the device or application settings. However, if you need to search for how to update a particular app or device, it's important to always go directly to the company's official website to find answers. Cybercriminals often imitate legitimate organizations and plant false information in search engines and computer pop-ups disguised as offers or notifications for "tech support." This is known as a tech support scam. This scam aims to trick people into clicking malicious links that give hackers unauthorized access to their devices, often resulting in a cyberattack or identity theft/fraud. To avoid this, we recommend you visit the company's website or review your warranty documents to find the information you seek.
When Should You Update Your Software?
Most applications and devices send users an alert or push notification when a new update is available. We highly encourage everyone to install these updates immediately.
In the past, a lot of software updates required users to restart their devices. However, downloading software updates is more convenient nowadays. Many of today's devices and apps no longer require you to restart your device, saving you time in your day.
You can also enable automatic updates on many applications and devices. Automatic updates can help ensure your devices are always running on the most up-to-date software without requiring you to update them manually.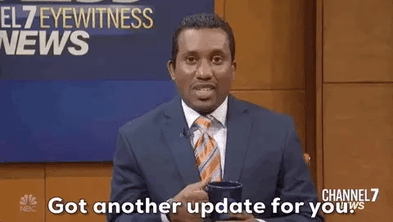 Below is a list of popular devices and how to update their software. Remember to enable automatic updates wherever you can!
Phone Operating Systems
Browser Operating Systems
Phone Applications
Computer Applications
Connected Devices
What Are Some Other Ways to Stay Safe Online?
Keeping your systems updated is one step you can take to stay safe online – but it doesn't stop there.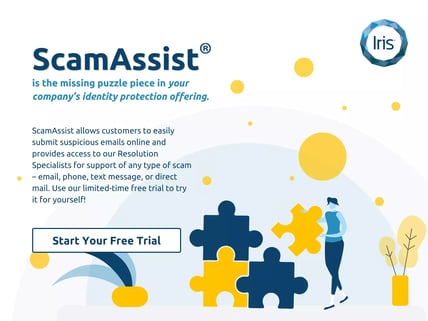 Learning to recognize scams is another major concern for many people who want to improve their online safety. However, the unfortunate truth is that technology advancements like AI make scams even harder to discern. Iris® Powered by Generali's ScamAssist® service can help. ScamAssist is a dynamic analysis tool that evaluates all kinds of suspicious messages before you click or respond. ScamAssist users can breathe easier knowing they have a powerful ally in their corner helping to keep them safe from scams.
In honor of #CybersecurityAwarenessMonth, Iris is offering everyone the chance to try ScamAssist for FREE. Start your free trial today!
For more #BeCyberSmart tips and resources, follow us on LinkedIn and Facebook, read our Cybersecurity Awareness Month blogs, and check out The Iris Guide to Outsmarting a Scammer webpage.