Estimated Reading Time: 4 Minutes
Whether you own a small business or a big corporation, we now live in a world where cybersecurity is the first line of defense in protecting employees and the organization. If you're not implementing cybersecurity or online safety habits in your workplace, there is a price that comes with it. According to the Identity Theft Resource Center, 1,789 data breaches with 189,532,878 affected victims occurred in 2021.
As we wrap up this year's Cybersecurity Awareness Month, we strongly encourage businesses to think about ways to improve security in their organization and help protect employees against cyberattacks.

Here are some tips to help your business do its part to #BeCyberSmart:
Take inventory
Taking inventory of valuable data and assets that are within your business is critical when fighting against cyberattacks. Don't forget to keep tabs on who has access to this sensitive information and where it's stored. Practicing these habits will ensure that business leaders have a track record of accessibility so they know where to look in case of a breach.
Protect your employees and business devices
To make the most out of your cybersecurity in your organization, make sure the software on all your business devices is up to date and automatic updates are turned on. That way, employees aren't tasked with manually updating devices.

Another approach is using strong authentication to protect access to accounts and ensure only those with permission can access them. This includes strong, secure, differentiated passwords and enabling multi-factor authentications.
Many businesses use a variety of online accounts in the workplace – whether it's a customer management platform, project management tool, or a company's social media account – therefore, a password manager can also offer increased protection when sharing passwords within the organization. Sharing passwords via email, text, or any online communication can leave your team vulnerable to attacks.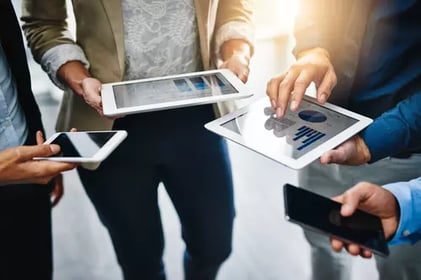 Educate employees
Establish cybersecurity protocols in the workplace before a breach. When employees do not practice cybersecurity measures, they can comprise not only themselves but the entire business. Be sure to educate staff on the most common types of cyberattacks such as phishing, smishing, and business email compromise, how to spot and avoid them, as well as report any suspicious activity.
Create a response plan
Comprehensively responding to data breaches will mitigate your business' risk and send a positive signal to your customers and employees. Therefore, creating a plan on how and what to communicate to customers, employees, and other stakeholders before a cyber incident occurs is crucial.

#BeCyberSmart this Cybersecurity Awareness Month and beyond
With data breaches on the rise, businesses, regardless of industry, need to understand the risks employees and their devices are in every day. Your business, employees, and customers are all vulnerable to these cyberattacks and have a responsibility to their part to #BeCyberSmart.
Thanks for being a part of our weekly Cybersecurity Awareness Month 2022 blog series! For more #BeCyberSmart insights and resources to help you and your business practice safe and secure online habits, check out our It's Easy to Protect Your Identity & Stay Safe Online webpage and our other CAM 2022 blogs. Be sure to follow us on Twitter, LinkedIn, and Facebook for daily cybersecurity and identity theft protection updates!