Estimated Reading Time: 5 Minutes
The Anatomy of Our Award-Winning Identity Marketing Campaign – And How It Can Shape Your ID Protection Marketing Efforts
This year, Generali Global Assistance's (GGA) Identity Protection Marketing Team received three highly-sought awards for a promotional launch campaign of our Identity Protection Product: the American Business Award Bronze Stevie for Small Budget Marketing Campaign of the Year, the InternationalBusiness Award Bronze Stevie for Small Budget Marketing Campaign of the Year, and the Association of National Advertiser's B2 Award for Integrated Trade Show Marketing Program Under $100,000.
Needless to say, we were thrilled. And we're happy to share our excitement.
The identity marketing expertise and product know-how that we apply at GGA to raise awareness and boost sales of our client branded, co-branded, or GGA branded identity protection programs are available to our clients through the Accelerate Marketing Support Program. Since Accelerate has been in place, we've launched dozens campaigns in partnership with our clients that have helped drive sales and strengthen retention.
Below is a breakdown of how the marketing campaign came to be and how it was deployed.
The Setup
Travelers face an elevated risk of identity theft for a variety of reasons – they use their credit card more with unfamiliar vendors, carry more personal documents, are exposed to more opportunities for theft, and often use unsecured Wi-Fi and devices. While the time span between an incident of identity theft and identity fraud can be days to months, precautions that can be put into place when a suspected incidence occurs can greatly minimize the risk. Typical travel insurance is often ill-equipped to handle the fallout for victims who experience theft while they're traveling and are not designed to handle the impacts of fraud that occur from a theft that occurred during travel.
GGA's user-friendly identity theft protection platform leverages the company's global emergency assistance network to do both – supporting victims at the time of theft and helping to handle any of the financial and logistical consequences – making it an ideal identity protection solution for travelers.
GGA exhibited at the Global Business Travel Association (GBTA) Annual Convention on July 17-20, 2016, to promote our identity protection within the travel industry. Recognizing that our solution is an "out of the box", auxiliary embedded service being sold at a convention designed primarily for corporate purchasing of airline and hotel blocks, we set an ambitious, but achievable target of 100 high-quality business-to-business leads.
The Hook
Find lost wallets hidden throughout the convention hall and share your discovery on social media for a chance to win two free tickets to anywhere in the world.
The Execution
Because our product was new to this audience, driving awareness was a key consideration in the design and implementation of the campaign – we wanted to "touch" the Convention attendees as many times as possible before the event, during the Convention itself, and after its completion. Planning began nearly 9 months in advance in close collaboration with event organizers in order to maximize visibility in a cost effective manner.
Pre-Show
Two weeks before the conference began, all attendees received a tri-fold mailer including an introduction to our identity protection for travelers, identity theft protection tips, an announcement of the campaign, and a call-to-action to visit a unique landing page to receive advance clues to the location of the lost wallet.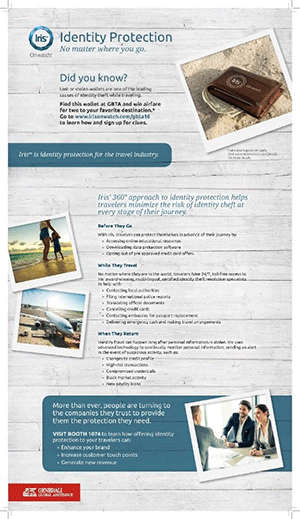 Three e-mails were delivered to all convention attendees with unique riddles delivered to those who had signed up.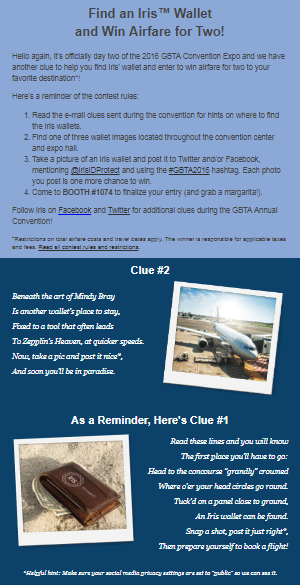 Social media posts alternated between product information and contest participation encouragement.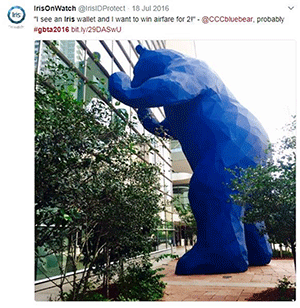 During the Show
The official product launch took place during GBTA's media day where Paige Schaffer, President & COO of GGA's Identity and Digital Protection Services, presented to leading travel business journalists about the value of identity protection for travelers and included an announcement of the contest.
Wall clings were placed throughout the Denver Convention Center promoting and included images of the lost wallet. The wallet was also featured in a corner of our booth design. The location of each directly corresponded to the riddles that were emailed and mentioned on social media.
Additionally, a minute-long video was produced and played on GBTA TV, shown on monitors throughout the convention center and on the bus shuttles that ran between the convention center and the host hotels.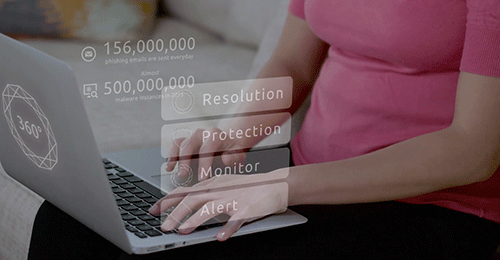 Social media messages streamed continuously with hints and clues about the wallets location as well as identity theft protection tips.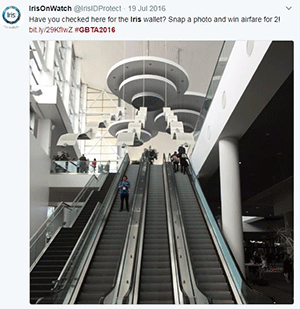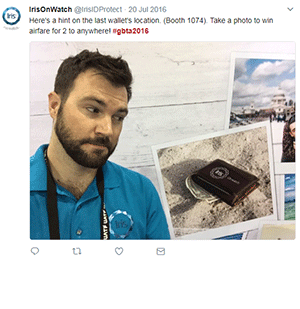 We maintained regular communication with contest participants on social media as they discovered the clues.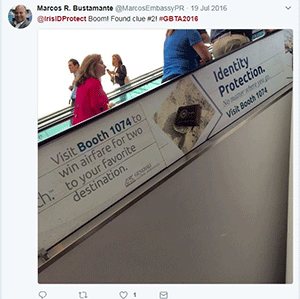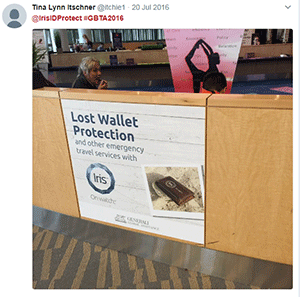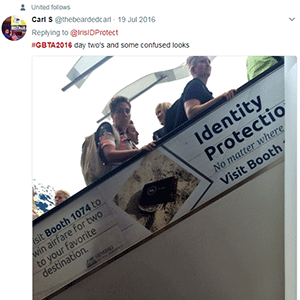 Post Show
Contest participants that had found the three wallets were entered to win the contest and a random drawing took place on the final day of the Convention.
All convention attendees received a final e-blast with information about the contest winner (Congrats Sharon on your trip to the Maldives!), as well as a call-to-action to sign up for a product demo. Warm leads were followed up directly by the sales team.
Results
The entirety of the campaign exceeded our expectations and busted through nearly every target we set. Landing page conversion rates and email open/click rates nearly doubled our previous averages, generating a satisfactory level of awareness among the new audience. Social media participation was vibrant at 86% above normal interactions, adding to the product's awareness on the contention hashtag stream and bringing a great amount of joy to the identity protection team. Booth visits attracted a continuous flow of highly interested individuals representing valuable opportunities for engagement. (The margaritas we were serving probably didn't hurt).
In the end, we surpassed our high-quality lead generation goal by 33% – resulting in new business opportunities for the company.
Let Us Help You with Your Next Campaign
Whether you're launching your new GGA identity protection program, reaching out to a brand new audience, or simply trying to double down in an established arena, we're here to help. The Accelerate marketing program utilizes GGA's brain trust of identity marketing specialists to develop creative integrated marketing campaigns that can meet any goal. From brainstorming, to creative development, to execution – we'll be there with you every step of the process. Our commitment to your success is just another way that Generali Global Assistance is the premier provider of identity protection services for businesses.
Let's get to work! Request a demo for more information on how identity protection can help you boost revenue, generate loyalty, and drive satisfaction.