Estimated Reading Time: 5 Minutes
Today's consumers are extremely savvy and very resourceful. They are dictating how insurance providers should meet their needs and utilizing insurance comparison tools to find the providers that best meet those needs. As insurance providers feel the pressure in this highly competitive and regulated industry, one of the ways they can differentiate themselves is to better understand customer behavior and their expectations. This will allow insurers to reshape their business plans to offer products and services that address customer needs and in turn increase loyalty to their business.
According to The Voice of the Customer: Identifying Disruptive Opportunities in Insurance Distribution survey by Accenture, insurance seekers can be categorized into three customer personas: the Nomads, the Hunters, and the Quality Seekers. Each group has distinctive attitudes and interests, and understanding these attributes can help insurers to make strategic business changes to increase loyalty of existing customers, as well as reach potential customers.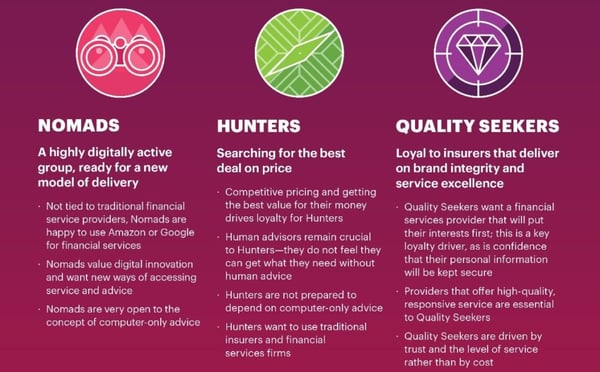 Nomads
Making up 39% of the survey respondents, the Nomads are highly digital and youngest group of the three personas. They are the fastest-growing, and they desire for personalization and flexibility in their insurers. They are more willing to share their data with a third party in exchange for relevant services and much more willing to use automated systems to receive advice or services that add value to their lives.
To attract Nomads, insurers should develop digital distribution models and automated advice systems. Make sure mobile and social channels are available for customers to receive information and file claims when necessary. Partnerships with non-insurance providers and InsurTechs may also be helpful.
Nearly two-thirds of Nomads stated that they are willing to share more personal data with insurers in return for personalized information on how to reduce their risk of injury or loss. And as they share more of their data with their insurance providers and potential third party partners on the providers' websites or insurance comparison sites, insurers need to make sure they're collecting only data that is necessary and protecting it. With data breaches being the new norm, it is imperative for businesses to follow best practices for data protection.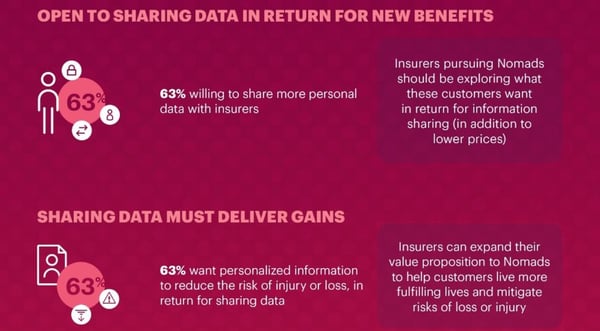 Hunters
Unlike the Nomads, the Hunters make up 17% of the survey respondents, making them the smallest group. They are the most price-sensitive group of the three.
Customers in this category tend to be more traditional, and they have no interest in getting insurance from non-insurance/third-party vendors. They desire to interact with people, not robots; however, they are not completely closed to insurance innovation. In fact, they are willing to receive data-driven insights from their providers because they believe that will add value to their lives.
Competitive price is necessary, but it is not the only determining factor for Hunters. Since they value human interaction and customer service very highly, agents should be encouraged to engage with this group on a regular basis. Implementing process automation and other tools can free up agents' time so they can connect with Hunters. Providing a good customer experience helps to build customer trust and leads to customer loyalty.

Quality Seekers
Quality Seekers make up 44% of the respondents, and they are searching for an insurance provider they can trust with high-quality service.
Surprisingly, customers in this group are willing to share personal data with insurers they trust. However, they expect something in return for their information, such as real-time guidance to avoid risk. Like Nomads, 66% of Quality Seekers are open to innovation and receiving computer-only insurance advice.
Like the insurers looking to attract Hunters, providers who are looking to attract Quality Seekers should automate routine procedures to free up resources for personalized customer service. Since trust and service are important factors for this group, it will be in their interest to effectively communicate the provider's commitment to data security and high-quality service.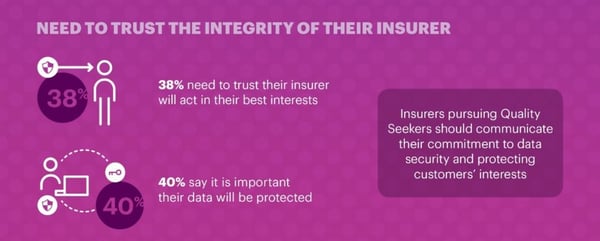 Stand out in the Insurance Comparison Battle with Identity Protection
While each of these groups have their distinct differences that must be addressed by an insurer looking to capture business from all three groups, a service that meets the needs of all the personas and adds value to their lives is comprehensive identity protection from a trusted partner like Generali Global Assistance (GGA). Over 50% of consumers are looking to purchase identity protection and 46% of them are turning to their trusted insurance providers to purchase it. Therefore, insurance companies like yours can show your customers that you understand their needs by offering identity protection. Additionally, 55% of consumers said they would have more confidence that businesses are actively working to protect their data, and reduce their risk of identity theft or fraud, if these businesses were to offer identity protection services, whether for free or at a cost. Our identity protection can offer the superior level of technology and service that your company expects, helping you to meet your goals while also providing the peace of mind your Nomad and Quality Seeker customers are looking for – resulting in increased loyalty to your company.
Partnering with an established provider of such products and services like GGA can be a cost-efficient way to provide best-in-class offerings to customers, which is especially important to the price-sensitive customers in the Hunters category. The right identity protection partner will delight your Hunters and Quality Seekers by frequently engaging with them across multiple channels to offer them value-added content and support, such as our monthly risk alert emails that include educational content developed by our award-winning marketing team and phone support available 24/7/365 with our certified, award-winning resolution team. Additionally, while many companies that provide program administration and marketing support offer it with the stipulation of having limited branding or features flexibility and/or charging high minimum sales, we pride ourselves on offering personalized, white-glove administration support to all our partners. We offer a variety of product bundles so you can offer the right selection of features and services for all your customers' needs and make it easy to help you launch, market, and continue to grow your program by offering tailored account management, business development, and marketing support.
To learn more about how to stand out in the insurance comparison battle, request a demo of our identity and digital protection service today.