Estimated Reading Time: 3 Minutes
In today's digital world, it's fairly common for households to own multiple smart home devices – in fact, the average number of smart home products in US households rose to 16 per household in 2022! However, recent research from Parks Associates and Iris® Powered by Generali found that 72% of smart home product owners are concerned with the security of the personal data collected and transmitted by their smart home devices. And with 10.5 million US households reportedly experiencing identity theft in the past 12 months, it's no wonder consumers are concerned about the security of their personal information.
Iris' Chief Marketing Officer, Eugenia Blackstone, recently sat down with vipHomeLink on their podcast to discuss these concerns and provide some insight on what consumers can do to protect their smart home from hackers.
"Smart tech owners deal with issues like their private information becoming public and companies using or tracking their online activity for purposes the user didn't intend or consent to. Hackers are always trying to be one, two, three steps ahead, so it's important that you do as much as you can to reduce your risk."
So, how do you keep you and your family protected?
"The first thing smart home product owners can do is understand the threats and risks they're dealing with. So, step one is awareness," says Eugenia.
Consumers are also strongly encouraged to use unique passwords, especially for all sensitive accounts (e.g., online banking, email, etc.), and to update them regularly. This will help mitigate the risk of hackers gaining access to sensitive data across multiple accounts that use the same password. To make this process more practical, consumers can schedule a reminder to update their passwords throughout the year, as the vipHome.app prompts homeowners to do.
Businesses should also do their due diligence when selecting any third-party provider that will integrate with their software or technology. Before committing to a product or service, businesses should ask the potential provider these vital security questions:
What data does the company need access to in order to deliver the offered service?


How will that data be used?


Who has access to that data?


What security measures does the company use to safely secure all customer data?


Understanding the answers to these questions are essential in safeguarding your customers' data.
For more tips, listen to the full podcast episode.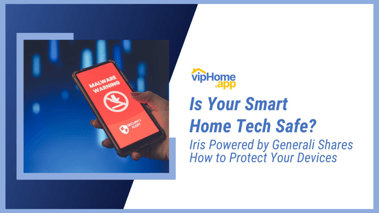 Iris Can Help Keep Your Customers Protected
As the number of smart home products per household continues to rise, it's now every company's responsibility to help safeguard their customers from the security risks associated with these devices.
Iris Powered by Generali's identity and cyber protection services allows you to address consumer worries by providing a holistic smart home product solution. Iris offers an array of services through three delivery models – so you can tailor your customers' identity protection experience to fit your business goals. Whether you want to offer your customers a brandable micro-experience that can be quickly launched (like ScamAssist), a polished portal with your pre-selected identity and personal cyber protection solutions, or identity and data protection via our API, we have the solutions you're looking for.
Plus, we've passed compliance audits for PCI DSS Level 1, SOC 2 Type 1, and CSA STAR Level 2 standards. Your customers' data protection is our number one priority.
Give your customers peace of mind knowing their identity is always being monitored and empower them to utilize the tools available to them, ensuring the security of their smart home devices.
Ready to elevate your offering to enhance consumer trust and customer loyalty?
Get in touch with our team to discover how we can assist in safeguarding your customers' identity and personal data.