Estimated Reading Time: 2 Minutes
While you may be focused on finding the best deals this holiday season, don't forget to also think about how to protect yourself when paying for that perfect gift! According to our 6th Annual Holiday Identity Theft Survey, seven in 10 respondents (71%) expressed concerns about their personal and financial data being at risk this holiday shopping season. With identity thieves lurking, how you pay may be just as important as what you pay. Keep reading to learn to avoid more than a lump of coal!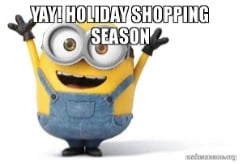 How Are You Paying?
This year, our annual consumer survey on holiday shopping habits revealed that shoppers prefer the following payment methods:
Eight in 10 (88%) of respondents reported that they plan to pay with a credit or debit card.



Six in 10 (60%) of respondents plan to use debit over credit cards, particularly Gen Z, Millennial, and Gen X shoppers.


Nearly 40% of Millennial and Gen Z shoppers will take advantage of Buy Now, Pay Later apps.


Over 40% of Baby Boomers and Gen X shoppers are more likely to use a credit card.
Cash or Credit?
When using credit and/or debit cards,
Try to limit the number of cards so you can track and monitor purchases more easily.


Enable fraud alerts from your financial institutions and/or identity theft protection service provider. If you are contacted about a fraud alert, make sure it is legitimate. Call the institution back or log in directly to your account rather than subjecting yourself to a potential phone scam or phishing attempt via links.


Report any suspicious activity immediately to the retailer and to the Federal Trade Commission.


When using your debit card, hide your pin and confirm your transaction is finalized before walking away. Be mindful of who may watching the keypad.
Ready To Check Out?
Regardless of your payment method, follow these simple tips to keep yourself safe this holiday season:
Don't offer up any additional personal information. Be mindful of who may be listening or looking over your shoulder for personal information.


Check your receipt to ensure you are being charged correctly and nothing looks off.


For online shopping specifically: